Michael Bublé's emotional tribute to family after son's cancer battle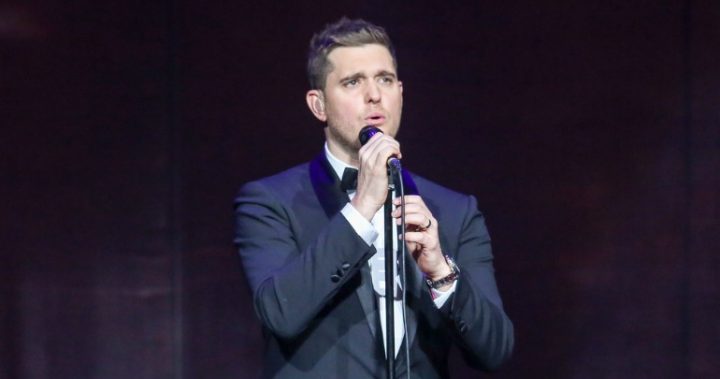 In his first public appearance since November, Michael Bublé was nearly overcome with emotion during a speech about the love he has for his family.
Bublé was among those presented with the Governor General's Performing Arts Award in his home country of Canada.
Following on from other illustrious recipients, including actors Michael J. Fox and Martin Short, Bublé took to the stage for a short speech, introducing himself in English and French before joking about his lack of ability to speak the latter.
Read more: Heartbroken Michael Bublé gets devastating news about his son 
He begins his speech with a famous quote from Maya Angelou: "I've learned that people will forget what you said, people will forget what you did, but people will never forget how you made them feel."
Ad. Article continues below.
The quote, he says, is a perfect description of his feelings as an artist and as a person.
"My entire life has been inspired by how my family has made me feel," he says.
He begins to list them, but stops after the first acknowledgement: his wife.
Looking out into the audience, Bublé takes a breath to compose himself before mentioning his children, the emotion in his voice all too clear.
Read more: Michael Bublé's wife says son's cancer changed them both 
Ad. Article continues below.
41-year-old Bublé has been largely out of the public eye since announcing last November that his three-year-old son, Noah, was diagnosed with liver cancer.
Even after the confirmation in April that Noah was cancer-free, Bublé has chosen to enjoy this quiet time with his young family.
During his speech, Bublé also mentions his parents, sisters and manager.
"There are no words to describe how I feel about you. Sometimes 'I love you' just isn't enough because what I feel is so much more," he says.
Bublé goes on to talk of his love for Canada and the support that allows artists to venture out into the world.
Ad. Article continues below.
"I stand here truly humbled that I have been allowed to be one of your musical representatives, and that you would choose to bestow this honour upon me during what has been an emotional and difficult time for my family."  
You can see Bublé's full speech in the video of the ceremony below (his appearance begins about 48 minutes in).

What did you think of Michael Bublé's emotional speech?