Helen Mirren plants a big kiss on Morgan Freeman at awards show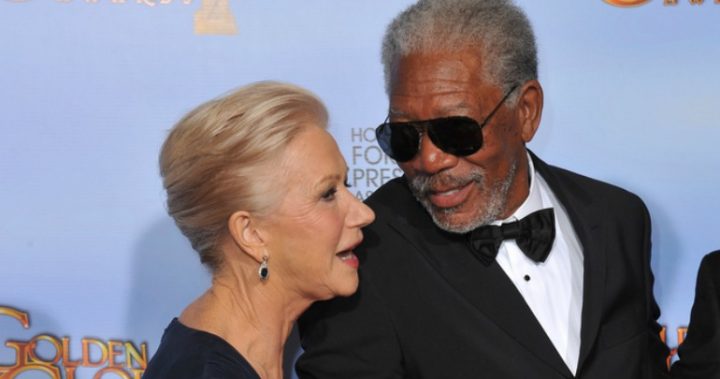 Hollywood favourites Helen Mirren and Morgan Freeman have publicly declared their love for each other, sealing the deal with a big ol' kiss in front of a huge audience overnight.
Helen was presenting her former co-star with a Career Achievement award at the 16th annual Movies For Grownups Awards when the pair shared a friendly kiss on stage.
Helen's husband Taylor Hackman was watching on from the crowd, but it seems the trio are all old friends with Morgan joking he had been in love with the actress for years.
"I want the world to know that I'm in love with Helen Mirren," he jokingly told the audience.
"I've been for some years now.
Ad. Article continues below.
"Taylor Hackford knows it and I'm still alive."
While the kiss made headlines around the world, the real point of the night was to honour actors and film makers over the age of 50.
The annual awards show aims to highlight the achievements of baby boomers in the industry and is a night where those with a wealth of experience can shine.
Last night, Denzel Washington, Annette Bening and Jeff Bridges all receiving honours for their work over the past year.
Would you kiss a friend on the lips? Do you think it's important to have an award's night like this just for baby boomers?