George Bush's daughters write beautiful letter to Obama girls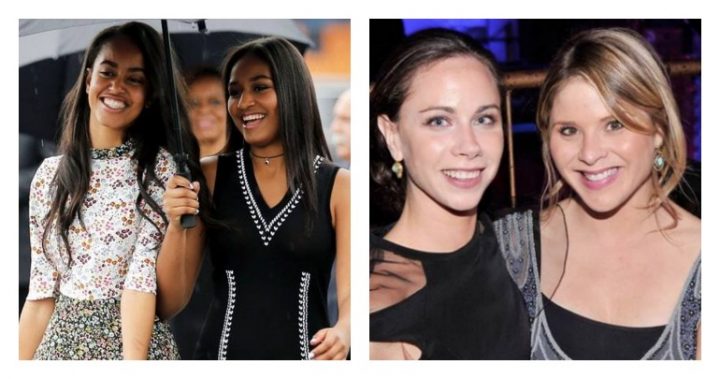 If anyone can understand what life has been like over the past eight years for Malia and Sasha Obama, it's Barbara and Jenna Bush.
The twin girls were 20 when their father George Bush became president and lived in the White House and under the constant scrutiny of the press throughout his time in office.
Now, they have penned a beautiful farewell letter to the Obama girls, reflecting on the day they first welcomed them to Washington and offering some advice for their future.
"… The four of us wandered the majestic halls of the house you had no choice but to move in to," the letter published in TIME read.
"When you slid down the banister of the solarium, just as we had done as 8-year-olds and again as 20-year-olds chasing our youth, your joy and laughter were contagious.
Ad. Article continues below.
"Now you are about to join another rarefied club, one of former First Children — a position you didn't seek and one with no guidelines. But you have so much to look forward to. You will be writing the story of your lives, beyond the shadow of your famous parents, yet you will always carry with you the experiences of the past eight years."
"Never forget the wonderful people who work at the White House.
"Enjoy college. As most of the world knows, we did. And you won't have the weight of the world on your young shoulders anymore. Explore your passions. Learn who you are. Make mistakes — you are allowed to. Continue to surround yourself with loyal friends who know you, adore you and will fiercely protect you. Those who judge you don't love you, and their voices shouldn't hold weight. Rather, it's your own hearts that matter.
"Take all that you have seen, the people you have met, the lessons you have learned, and let that help guide you in making positive change. We have no doubt you will. Travelling with our parents taught us more than any class could. It opened our eyes to new people as well as new cultures and ideas.
"You have listened to harsh criticism of your parents by people who had never even met them.
Ad. Article continues below.
"You stood by as your precious parents were reduced to headlines. Your parents, who put you first and who not only showed you but gave you the world. As always, they will be rooting for you as you begin your next chapter. And so will we."
The letter quickly went viral and has been read and shared millions of time by people around the world.
Despite their political differences, it's nice to see the families have been able to offer so much support to each other over the years.
No doubt Malia and Sasha will extend the same kindness to Donald Trump's young son Barron when they leave the White House in January.
Do you Malia and Sasha have handled their time in the White House well?