Siblings recovering in hospital after being held captive by parents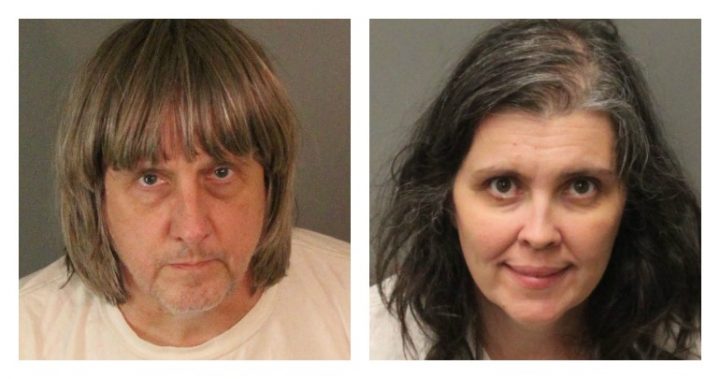 It's the case that's got the whole world talking today, not only for the sheer cruelness of the alleged offences, but for the bizarre actions taken by Californian parents David and Louise Turpin to make their life appear normal while secretly allegedly torturing their 13 children.
The Turpins were arrested and charged with torture after their 17-year-old daughter escaped and called police, telling them her brothers and sisters were being held captive in their home. CNN, along with multiple media outlets, have reported the girl looked smaller than her age and mistakenly believed she was only 10 years old.
Police soon swarmed the house, discovering the Turpin children, who range in ages 2 – 29, shackled to a bed, dirty and appearing malnourished. Neighbours said they were shocked to discover the couple had young children, having only seen the older siblings occasionally emerge from the house to mow the lawn and do chores.
One neighbour told CNN the kids appeared "very pale-skinned, almost like they'd never seen the sun", while another said they looked "malnourished". Their brief public appearences were in stark contrast to the facade they paraded on social media.
Photos from the Turpins Facebook page show the couple being married in Las Vegas by an Elvis impersonator, surrounded by their children. The couple appear to have renewed their vows three times in recent years, with the children wearing the same matching outfits every time. Other photos show the family on holiday at Disney World.
Ad. Article continues below.
The children's paternal grandparents said they had not seen their grandchildren in four years, according to ABC.
James and Betty Turpin told ABC they were considered a good Christian family and said the children were homeschooled and made to memorise long passages from the bible.
Of course it's not the first time the world has been captivated by stories of parents doing bad. But for many mothers and fathers it's difficult to understand how a parent could allegedly treat their child with such disregard and contempt.
What are your thoughts on this case? Have you been following the updates?