Controversial tennis star Nick Kyrgios sensationally quits 2017 season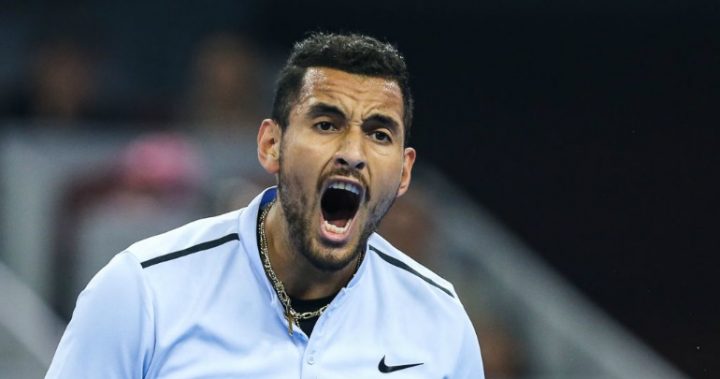 There's no denying that 2017 has been a tough year for controversial tennis player Nick Kyrgios, but it looks like things have finally got the better of him.
The 22-year-old has announced that he won't be returning to the sport that made him a household name until 2018.
The news came after Kyrgios, who is currently ranked at No. 20 in the world, was defeated by world No.98 Ruben Bemelmans at the European Open in Belgium this week.
The tennis star took to social media to explain how injuries led him to make his decision not to return to the court this year: "Unfortunately due to the reoccurrence of my hip injury that I originally suffered at Queens, I am shutting down my season to make sure I can rehab and prepare as best as I possibly can for the Australian Summer.
"I have played a huge amount of tennis since coming back from my hip injury in Washington and unless I want this to escalate to an injury that requires surgery, I need to listen to my body and my team."
Ad. Article continues below.
Here's an update guys. #SeeYouIn2018 ❤️?? pic.twitter.com/oSoNsTXGCW

— Nicholas Kyrgios (@NickKyrgios) October 19, 2017
The sportsman acknowledged that he hadn't performed as well as he had hoped and how personal struggles off the court had impacted his game.
He continued: "It's been no secret that I have had some sad moments to deal with away from the court which have added to my disappointments throughout the year."
Back in June, Kyrgios said the death of his grandfather was to blame for losing the Paris grand slam and for smashing two tennis racquets on the court.
Ad. Article continues below.
More recently, he pulled out of an opening round at the Shanghai Masters, with many calling for the player to be suspended from the game. He was fined $10,000 for walking off the court during the game and stripped of the $21,085 be was meant to earn in prize money.
Just a year earlier at the same event, Kyrgios was also fined and suspended for abusing a spectator and for purposely throwing a match.
Despite saying he doesn't love the game, Kyrgios insisted he would be back in the new year, explaining on Twitter, "I will do all I can to improve for 2018 and would like to thank all of you who supported me, reached out and sent encouragement and positive energy through 2017. Thank you, and see you in 2018."
This year has been a roller coaster. On and off the court. See you 2017 ??? #myway #steadytheship ?✈️?❄️☘️???‍♂️? #processing"

— Nicholas Kyrgios (@NickKyrgios) October 19, 2017
Ad. Article continues below.
Fans on social media were quick to send their well wishes to the troubled star.
One person said: "Focus on you man, the next year is yours."
Another comment read: "Good luck with your rehab, I can't wait to see you on the court again soon, while a third added: "Take care of your health, both mental and physical."
Do you think it's fair for Nick to end his season early? Should players who aren't passionate about the game be able to compete?