Community rallies to save dog on death row for attacking child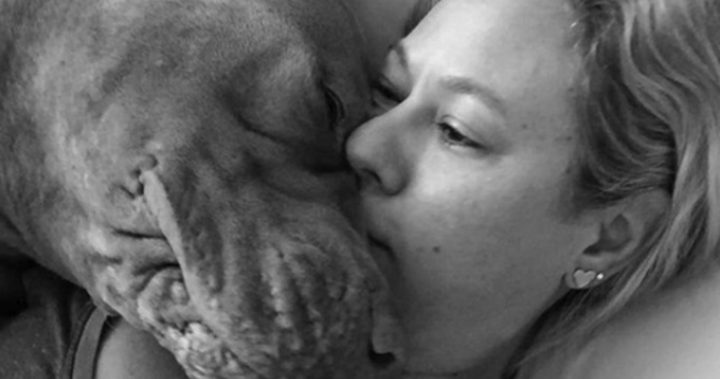 More tha 30,000 people have signed a petition to save Hank, the Neopolitan Mastiff dog sentenced to death after injuring a young girl's face in October 2016.
The unfortunate incident took place at a neighbourhood gathering when a seven-year-old girl asked to pat the large pup. Despite being held by the collar by his owner Tammy Bradshaw, Hank nudged the girl's face, catching her lip on his tooth. The injury later required reconstructive surgery because the wound was so close to her lip.
According to a statement on the petition, a number of witnesses, and even the young girl's mother (who did not personally see what happened, but was nearby) all agreed at the time, that it was "simply an unfortunate accident between an exuberant child and a clumsy, oversized pup still learning to handle his larger frame and coordination."
Initial investigations by Moreton Bay Regional Council agreed – to some extent. While council found that Hank did not pose a risk to the community health and safety, it later declared Hank as a "dangerous dog".
Jamie Fry, the council's investigations officer assigned to Hank's case at the time of the incident, told 9news.com.au, "I believed the dog needed to be muzzled when in a public place and (a dangerous dog declaration) is the only way I could enforce that."
Ad. Article continues below.
"I said, 'as long as I don't get any complaints and you get him desexed I'm not worried'," he said.
Mr Fry also said that when he first spoke with the victim's mother, she did not want to take action against Hank, nor was there any talk of the dog being destroyed.
The petition states that Hank's owners complied with Hank's permit conditions and regular council inspections. 'No further complaints were substantiated, no further incidents occurred and destruction was never expressed as a potential course of action for Council at any time.'"
Ad. Article continues below.
Seemingly out of the blue, a destruction order was made in May 2017, when Hank was seized by Moreton Bay Regional Council and taken to the RSPCA-run pound facility at Dakabin. He has been there ever since, as his owners continue to fight the council to save him.
According to 9news.com.au, a council spokesperson said the destruction order was later made on the basis of Hank's owners to comply with having him desexed, as well as the "seriousness of an unprovoked attack on a child", the risk associated with returning a dangerous animal to an environment where contact with other children was probable and "the likelihood [that] a further, sudden and unprovoked attack could not be sufficiently prevented".
Meanwhile, the impact of being impounded for eight months is taking its toll on Hank.
"Naturally, Hank is now not only sick due to excessively strict conditions stipulated by Moreton Bay Regional Council but he is depressed and lethargic as any animal, or human, would be in such a situation," the petition states.
Ad. Article continues below.
"It has been very difficult for us to have had Hank incarcerated for almost eight months now whilst we fight this for him, let alone how difficult it is for him," Hank's owners Nathan Wallace and Tammy Bradshaw said on their Facebook page. "We have continued to do everything possible to expedite the matter and get him home urgently, as he should rightfully be."
"Only a fair and thoughtful application of the laws, designed to promote responsible pet ownership and management of regulated and dangerous dogs, will actually lead to the desired outcome of minimising the risks to the community," Wallace wrote.
"The incorrect and poorly administered process only serve to outline the fact that if a completely innocent dog that is well managed like Hank can be sentenced to death, how many other innocent dogs does this happen to. It poses the question whether Council is identifying the dogs which truly are a danger to the community."
What are your thoughts? Should Hank be saved or put down?