Richard Branson shares experience facing Hurricane Irma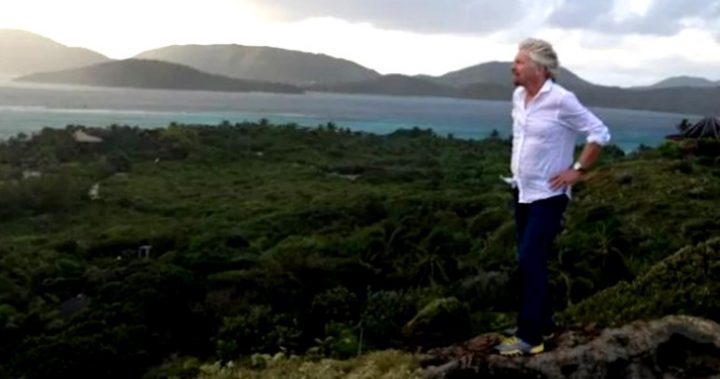 When natural disaster strikes there's often only two options, stay and bunker down and make a run for it.
Billionaire Richard Branson decided to take the first option, while facing Hurricane Irma from his private island in the Caribbean.
He's stayed behind and has plans to hide out in his concrete wine cellar under his house. As he jokes himself, there's worse places to be, and he's not sure how much wine will be left at the end of it.
Expecting full force of Hurricane #Irma in about 4 hours, we'll retreat to a concrete wine cellar under the house https://t.co/tF84SPx7aB pic.twitter.com/wMUDoX3O4v

— Richard Branson (@richardbranson) September 6, 2017
Ad. Article continues below.
Irma has already been called the most powerful hurricane ever recorded over the Atlantic Ocean, with a category five rating.
With 185 mph winds (295 kmp) for 25 hours it's lived up to its predicted extreme behaviour, but Branson continued to provide updates on social media, and his own blog post on the Virgin website, as he and his team wait it out. 
I haven't had a sleepover quite like this since I was a kid. Wonderful team here on Necker all well https://t.co/tF84SPx7aB #Irma pic.twitter.com/DnnfUaeXhd

— Richard Branson (@richardbranson) September 6, 2017
Branson explained his reasons for staying behind. 
Ad. Article continues below.
"On Necker Island we have constructed really strong buildings (with hurricane blinds) that should be able to handle extreme weather pretty well, though with a Category 5 hurricane almost nothing can withstand it," Branson wrote. "We had some lovely guests staying on Necker Island who have cut their trip short for safety reasons, and another group of guests have also postponed. I will be on Necker alongside our team, as I have been on the three times we have had hurricanes over the past 30 years."
"Our main concern is with the local people of the BVI. For anyone who could be affected by the hurricane, please make sure you are as prepared as possible. In the past, many British Virgin Islanders have shrugged off hurricanes, stayed at home and not gone to shelters. This time the BVI Government and the BVI Tourist board have been very active and providing advice to the local population. With the likelihood of a Category 5 hurricane, it is really important people go to hurricane shelters if possible."
Just experienced a night of howling wind and rain as Hurricane #Irma edges ever closer – everyone calm & upbeat https://t.co/tF84SPx7aB pic.twitter.com/lbM0bdHxCv

— Richard Branson (@richardbranson) September 6, 2017
Since Branson's last post news has come out the Irma has destroyed homes and flooded streets in the chain of small islands in the norther Caribbean, and passed directed over Barbuda. While power is down and there are reports of extensive damage there have been no reports of death or injury.
Have you experienced a major weather event like this? Did you stay home or head for safety elsewhere?