Nick Kyrgios' incredible act of sportsmanship at Australian Open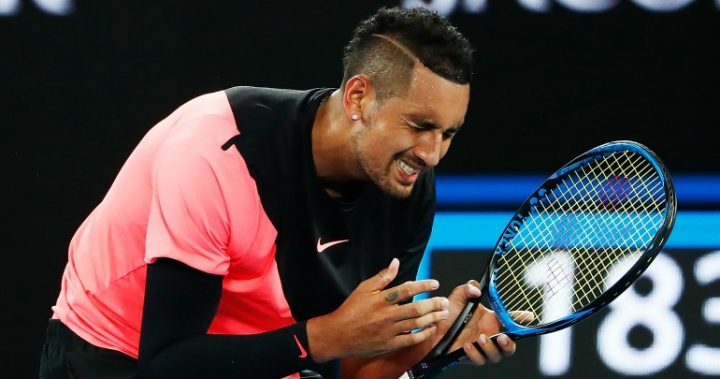 He may have lost the match, but Nick Kyrgios won plenty of hearts after his crushing Australian Open defeat against Bulgarian tennis star Grigor Dimitrov on Sunday night. Australians saw a different side of the 22-year-old, who succumbed 7-6, 7-6, 4-6, 7-6,  signalling that attitudes towards the world number 17 could be changing.
The match didn't come without controversy, with Kyrgios firing up at the umpire after being called out for two foot faults during service. The technicality meant the Canberra-born athlete lost two crucial points during the second and third sets of the match. 
The star, who didn't believe he was in the wrong, called the umpire to reconsider his judgement. "I haven't been called for a foot fault in three years," he could be heard saying. "It's not possible man, it's not possible."
Ad. Article continues below.
That decision even drew criticism from former champion Lleyton Hewitt, who suggested that umpires at the match may have been told to keep an eye on Kyrgios' serve. "I wonder whether the linesmen have been told to look out for that tonight," Daily Mail reports Hewitt saying.
While the pressure got to him at parts of the match — he became agitated at his own support box for not providing him with the correct racquet — he redeemed himself at the end with a touching show of sportsmanship towards his opponent. Thousands of spectators at Melbourne's Rod Laver Arena and millions more watching on TV witnessed the moment Kyrgios embraced the world number three at the net.
"You can win this, believe," Kyrgios could be heard telling Dimitrov. "Alright, believe." He grabbed him in the middle of the court and stared directly into his eyes. With a pat on the back, Kyrgios let Dimitrov celebrate his win.
These are the moments that make our game great.

????#AusOpen pic.twitter.com/Ak2AWGdtyo

— #AusOpen (@AustralianOpen) January 21, 2018
Ad. Article continues below.
Viewers at home quickly rushed to social media to praise him for the moment. One person wrote: "Such great sportsmanship between Dimitrov and Kyrgios – that was a truly amazing match to watch."
Another fan said: "Well done Nicko! Tonight wasn't your night but you'll win matches like these in no time as you play top notch tennis." A third added: "I'm so glad Nick is getting himself together mentally. He had the potential to be number 1 and win slams."
The show of support is a sharp turnaround on Kyrgios' public standing last year. He drew the ire of tennis fans and media commenters after a series of tantrums and bad behaviour both on and off the court. One of his most contentious moments last year was at the US Open where he well and truly spat the dummy after losing to fellow Aussie John Millman. He lashed out as his support team for not cheering loud enough and was issued a code violation for bad language.
At another match in Mexico last March, he also clashed with fans for talking during the match. "Shut the f*** up," he could be heard saying during the match, with some spectators feeling threatened and demanding an apology.
Ad. Article continues below.
Still, it seems like he's turning his life around, even winning the support of Hollywood superstar Will Smith at a match last week and hitting the court with a young girl living with leukemia who wanted nothing more than to meet her tennis idol.
With a championship win at the Brisbane International and a positive start to the Grand Slam tour, could this be the year Kyrgios turns it all around?
Has your opinion on Nick Kyrgios changed? Are you a fan, or does he still have a way to go?
---
With Facebook removing news sites from your feeds we ask that you sign up for Starts at 60's emailers here. And to keep us on your wall, join some of our new Facebook groups and clubs:

News Junkies Club – Australia
News Junkies Club – USA 

See news on the change and links to all our other clubs and groups here.