Melania Trump decks the White House for a seriously fancy Christmas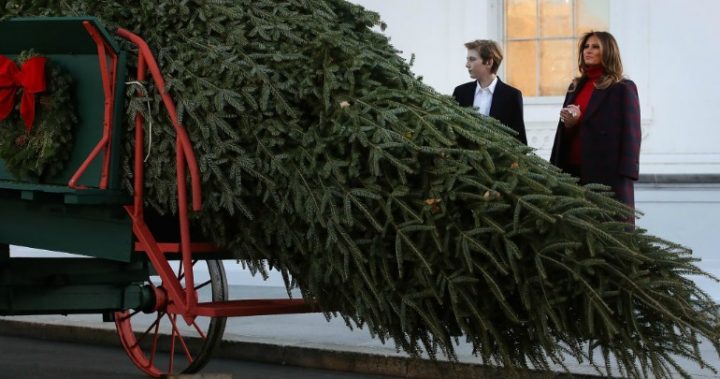 Christmas preparations are in full swing at the White House, and they sure are a lot more involved that what goes on in most houses, which usually involves dragging the tree out of storage and flinging a bit of tinsel around.
Melania Trump and son Barron joined in an old-fashioned tradition of receiving the official White House Christmas tree, something that the first lady of the house does every year, though Michelle Obama had trouble dragging her teenagers out into the cold for the festive event last year.
Melania and Barron welcomed a 5.9 metre- (19 foot 3 inch) tall Christmas tree, which arrived at the historic building by horse-drawn carriage as a military quartet played holiday tunes.
The first lady dressed in a festive red turtleneck for the occasion, matched with a plaid coat and black stiletto boots, while Barron, 11, looked dapper in a dark suit coat and black trousers. 
Ad. Article continues below.
Melania posted a video on her Twitter account showing a team of 10 men moving the massive tree inside, while her Instagram account had multiple photos of her adding baubles and miniature stockings to the tree. Unsurprisingly, none of the decorations resembled the paper-chains and hand-me-down or family keepsake baubles that many people have in their home at Christmas.
Thank you Silent Night Evergreens in Wisconsin for our beautiful tree! @POTUS, Barron & I are excited for Christmas in our new home! pic.twitter.com/so6HVG1st8

— Melania Trump (@FLOTUS) November 21, 2017
That's because the first lady and her husband, President Donald Trump, are gearing up for far more guests than most of us accommodate over the festive season – even those of us with big extended families! 
Ad. Article continues below.
The Christmas tree arrived earlier than usual because the Trumps will be spending the Thanksgiving holiday in Florida. 
While they're away, volunteer decorators and florists from all over the country will be spending the holiday weekend decorating the 132-room mansion for Christmas. The US president and his family will be holding more than a dozen parties leading up to Christmas, and as a result the White House kitchen will be busy preparing food and desserts. 
President Trump will light up the National Christmas Tree on Thursday, 
Do you enjoy decorating your home for Christmas? Have you put up your Christmas tree yet?