Keith Urban shows off insane skills in impromptu jam session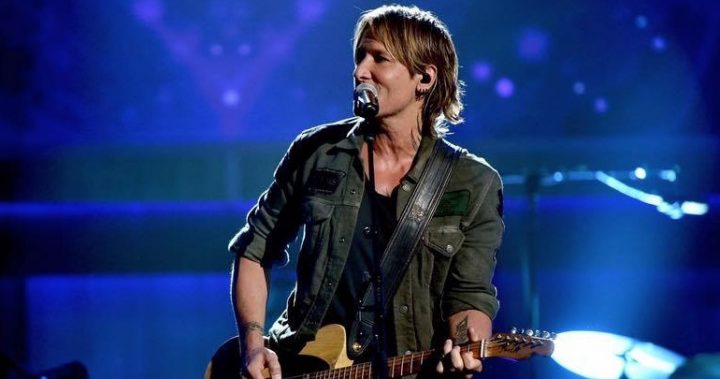 It's no secret that Keith Urban has a certain way with the guitar, but his followers were blown away by the singer-songwriter's swift rendition of "Sold" by John Michael Montgomery, which the star posted to Instagram as a treat for his 1.5 million followers. The song, released in 1995, is as fast-paced as an auctioneer's spiel as it tells the story of a man who sees a pretty blonde lady that he "just had to have".
Urban joined Chris Janson, a 31-year-old country music singer-songwriter who has penned singles for Tim McGraw, in his trailer for a speedy collaboration. Never one to take the easy way out, Urban accelerated the already-fast song until his fingers were a blur on the guitar strings and he looked seconds from stumbling over the lyrics. 
While Urban was tearing it up on his guitar, Janson took the video to the next level with a harmonica riff that had Urban shaking his head and laughing. Urban captioned the video with the hashtag #Opry and "checked in" his video at the Grand Ole Opry in Nashville, Tennessee. The weekly country-music stage concert has been going on for nearly 100 years. 
"Doing a John Michael Montgomery song proud," one person commented. 
"You always are having a great time! [Always] happy!" another wrote. 
Ad. Article continues below.
Janson also captured the hilarious moment with a Boomerang on his account, and it didn't take long for some of his own 153,000 Instagram followers to start praising Urban. 
"Two of our faves!" one person wrote. 
"Love the song blue ain't ur colour," [sic] reads one comment, referring to Urban's award-winning single, "Blue Ain't Your Colour", which earned Urban a CMT Music Award for Video of the Year, along with Male Video of the Year. 
Ad. Article continues below.
You can see the original version of the song in the video below. 
Do you remember the song? What do you think of the cover?