Elton John 'in shock' over mother's sudden death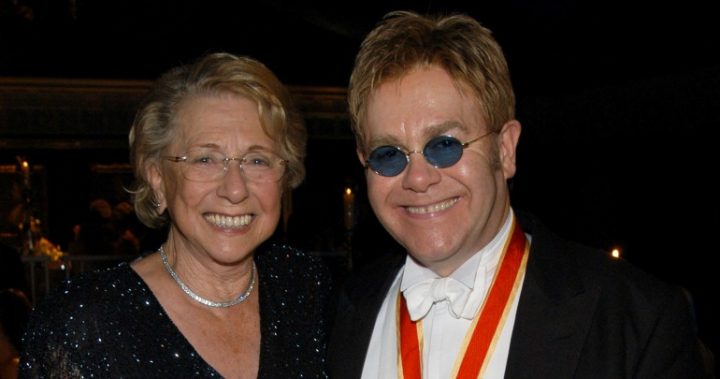 Elton John has taken to social media to share the heartbreaking news of his mother's death, saying he is "in shock" over her sudden passing.
The Grammy winner said his mother Sheila Farebrother passed away on Monday morning.
"So sad to say that my mother passed away this morning," he wrote on Instagram.
"I only saw her last Monday and I am in shock. Travel safe Mum. Thank-you for everything. I will miss you so much."
Ad. Article continues below.
Her death comes just months after the pair ended a bitter nine-year fued that made headlines around the world.
Farebrother once told media that they had fallen out after John asked her to cut ties with two of her oldest friends, who also happened to be previously employed by her famous son.
Their standoff was made worse when Farebrother hired an Elton John tribute act for her 90th birthday, a move that reportedly infuriated the singer.
After years of anger, the pair are believed to have reconciled after John was admitted into hospital in April with a "potentially deadly" infection.
Ad. Article continues below.
John shared a sweet tribute to Farebrother on Mother's Day in May, saying "Dear Mum, Happy Mother's Day! So happy we are back in touch".
It appears their reconciliation couldn't have come at a better time, allowing them to enjoy the last few months of Farebrother's life together.
No matter how old you are, losing a parent is a gut-wrenching experience for many people.
Ad. Article continues below.
Death is often life's harshest way of showing us how much time we wasted being angry with someone or not appreciating them and the short time we have together.
No doubt John is grateful for the time he was able to spend with his mother before it was too late.
Have you lost a parent? Do you still think about them often? Do you have any advice on how to deal with such a loss?