Dramatic story of Carrie Fisher's revenge on Hollywood sex pest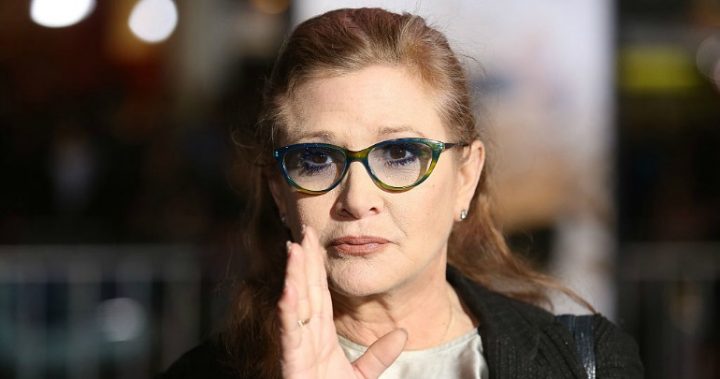 In the wake of the Harvey Weinstein sexual assault scandal that has sent shockwaves through Hollywood over the past week, many women in the entertainment industry have come forward to explain how they have been impacted.
Everyone from Judi Dench, Meryl Streep and Glenn Close have come out slamming the defamed producer amid accusations of his sexual misconduct.
There was even a viral social media campaign called #MeToo, where men and women across the globe shared their own harrowing experiences of assault.
Now it appears the late Carrie Fisher also had a message for predatory Hollywood producers.
Her good pal Heather Ross recently appeared on Arizonan radio station 94.9 MixFM and detailed how the Star Wars actress had sent a very stern warning to an Oscar-winning producer who had sexually assaulted her friend.
Ad. Article continues below.
Heather explained that she had met a producer with no intention of becoming an actress when he jumped on top of her and assaulted her.
The plan was to go to dinner but the unnamed producer had pinned her to the seat of the car he picked her up in.
While she escaped, she recalls the producer yelling: "You'll never make a movie in my down and get the F out of my car."
She later explained the horrific ordeal to Carrie who had a message of her own she wanted to send the producer.
Heather recalled a conversation with Carrie who said: "I went to his office and personally delivered a Tiffany box wrapped with a white bow.
Ad. Article continues below.
"It was a cow tongue from Jerry's Famous Deli with a note saying, 'If you ever touch my darling Heather or any other women again, the next delivery will be something of yours in a much smaller box!'"
Heather also revealed that Carrie was the real deal when it came to friendships in Hollywood: "First of all, this woman who I love as a friend was not just a fake Hollywood friend. That's who she was. She spoke out and put things in your face."
Were you a fan of Carrie Fisher?