Voted Australia's favourite holiday park in 2013 and 2014, this is a must for campers and grey nomads alike. As the site is located at the base of the Great Ocean Road, it is used primarily by visitors as a base for visiting the 12 Apostles.
The popularity of this park doesn't stem merely from its beautiful location. The amenities and facilities that this park offers are of top quality. Boasting free BBQs, free WiFi, jumping pillow, basketball ring, children's playground, disabled bathroom facilities, boat ramp to the river, movie hire, free tennis court and comfortable grass camp sites, there is enough here for even the most fussiest of campers.
You must book your site before you camp due to parks popularity. Rates change throughout the year. For a full look at all rates and charges, check out the website here.
2. Beacon Resort – Victoria
A winner of 46 tourism and business awards makes this one of Australia's most top-rated holiday parks. Maybe you and your camping companion are tired of roughing it? That's no problem as this park offers a variety of accommodation venues. From private villas, houses, motel rooms, camping and caravanning sites, this place has got the lot for you.
Located at the entrance to Queenscliff on the Bellarine Peninsula, Victoria, the park is just 90km south-west of the Melbourne CBD. With easy beach and river access, over the years this quiet spot has become popular for beach lovers, fishermen and boaters alike.
The list of activities that are available are almost too long to put in this list, so check out the website here and see if anything catches your eye.
3. Cairns Coconut Holiday Resort – Queensland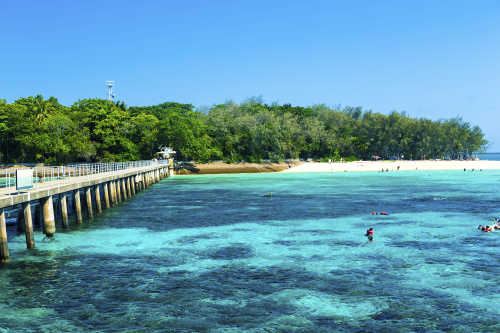 You wouldn't even know that you're just seven minutes away from Cairns CBD. Located amongst 28 acres of lush rainforest and tropical gardens is one of the best holiday parks Queensland has to offer. Powered grass sites, slab sites and even ensuite sites mean that campers and grey nomads alike will have somewhere to set up shop.
Local snorkelling areas are popular places to explore for visitors to the site. If getting in the water isn't your thing then a variety of cruising packages can be arranged if you can tear yourself away from the facilities that the park has to offer. Aqua aerobics, pools with water-slides, playgrounds, tennis courts, outdoor movies, BBQs and minigolf are just a number of the great places that you and your grandkids can enjoy all year round.
Check out the website here for more information.
4. Edithburgh Caravan Park – South Australia
Situated on South Australia's Yorke Peninsula, Edithburgh's Caravan Park is a great place to explore the beauty of the peninsula.
The campgrounds overlook some of the coasts most child friendly beaches, and even has a tidal pool and boat ramp.
Luxury seafront spa cabins offer a great alternative to camping however the unpowered camp sites are a cheap way to spend an enjoyable holiday on Australia's southern coastline. For all rates and packages, click here.
5. Ayers Rock Campground – Northern Territory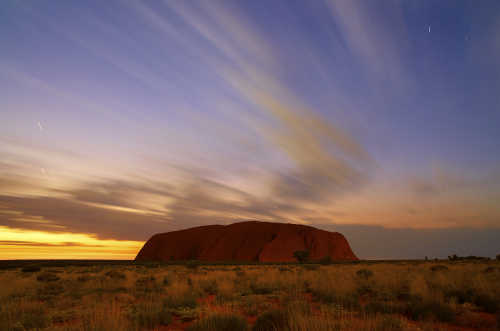 If you find yourself in the heart of our great country, then you don't want to be without somewhere to stay. Ayers Rock Campground offers unpowered, powered and ensuite camping sites, as well as cabins for all family sizes.
Picky eaters rejoice at the 15 different dining options that exist both in and around the park. From casual dining under the desert sky to fine dining in some of the best restaurants the city has to offer, treat yourself to some of the best food central Australia has to offer.
Experience all that Ayers Rock has to offer by booking travel packages through the onsite holiday planning team. For more information click here.
6. Big 4 Peppermint Park – Western Australia
Winning gold in the WA tourism awards three years running is no small feat, but it is something that this park has managed to do. Situated on the doorstep to Dunsborough and surrounded by eight hectares of bushland makes this a quiet place to relax.
With large caravan and camping sites boasting lush grass bases, you'll soon be unwinding once you set up your ideal camp. Disability cabins offer a great alternative with those who have trouble getting around but still yearn for a great travel experience.
Peppermint Park certainly has not scrimped on the facilities either. Mini golf, snooker tables, camping kitchens, basketball, fish cleaning stations, jumping pillows, volleyball and swimming pools will ensure that your stay is certainly an eventful one. For a complete list of amenities, rates and activities, check out the website.
7. Halifax Holiday Park – New South Wales
Beach access always makes a holiday park more appealing. Access to two beaches like Halifax however certainly makes for some good camping indeed. The two calm-water beaches that Halifax is situated are renown on the Central Coast as having some of the most child friendly waters.
Driving north for 45 minutes of Newcastle will get you to the tranquil park that offers campsites, caravan sites, cabins and villas as accommodation options. While shops outside the park are a small drive down the road, the campsite offers plenty of kitchen and BBQ options for you to cook anything you buy in town.
This site is perfect for campers and grey nomads alike that want a cheap outdoor experience with safe pristine beaches. More information on the park and its surrounding suburbs can be found here.
8. Sydney Lakeside Holiday Park – New South Wales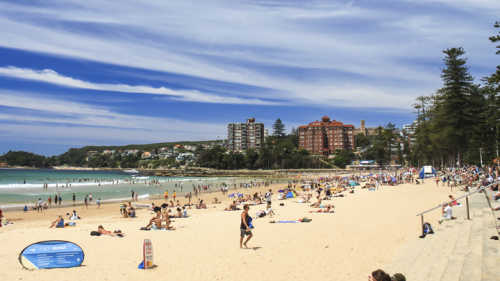 17 km away from Sydney's CBD is an unexpected holiday gem. Found in the city's Northern Beaches, Lakeside Holiday Park is an ideal camping destination for anyone passing through the big city. Set up base here and explore the 21 beaches from Palm Beach to Manly either by car or free government bus. Back at camp sit back or enjoy the variety of facilities. From games rooms to free wifi, the park has all the mod cons and outdoor activities that one would expect from any decent campsite. More information on the park can be found here.
9. Wallaroo North Beach Tourist Park – South Australia
Located just outside of Adelaide is Wallaroo Tourist Park. Unpowered and powered sites that overlook the beach make for delightful places to set up camp for a night or three. Villas and cabins are also available should you feel like upgrading for a little while as well.
The site is notorious amongst locals for having clear skies throughout summer. Winter travellers lookout as the breeze off the ocean can make the campsite rather chilly.
Those craving a peaceful holiday can sit on the beach and unwind with a good book, or perhaps take a stroll down the road to the local shops to see what food our South Coast has to offer. Free wifi, playgrounds and basketball courts will provide enough entertainment to keep young ones happy, making this a great place for all ages to visit. More information on the park can be found at their website.
10. Straddie Camping – Queensland
Queensland locals love visiting Stradbroke Island due to its pristine beaches and vibrant camping scene. An easy driving distance from both Brisbane and the Gold Coast, get in the car and board the ferry with your camping equipment or trusty caravan. Once there, Straddie camping offers dog friendly camp grounds, as well as camp ground that overlook either surf beaches or calm water beaches. With so many camping options, there is bound to be a site that perfectly suits your camping needs. Sure, you need to buy a permit for your 4WD and pay the ferry costs, but these extra charges are well worth it once your feet are digging into the white sands that Stradbroke Island has to offer.
Once there, public transport is available to get you around the island. Use the transport to visit the variety of beautiful swimming lakes and shops dotted around the island.
For more information on Stradbroke camping, click here.
Happy camping!
Do you have a favourite place where you or your family love to camp? Tell us about it in the comments below.
To find your nearest Coffee Meetup and register, please click here or head to www.startsatsixty.com.au/events
We hope to see you celebrating the over 60 life with other over 60s on February 17 2015.