"So, really, it's cruising as you know it, it's what you expect with some extra cleaning protocols in place."
Smooth check in process
Joseph says the biggest difference was with check-in, but that P&O have created a pre-check-in process ensuring travellers are boarded in a smooth and timely manner.
"There's a new app that they use, VeriFLY, where you can upload your pre-boarding documents, and this will fast-track your boarding process," she said.
"I had to upload my vaccination certificate and I had to do a rapid antigen test and upload the result of that 24 hours prior. So, you do have to wear a mask for this process, but because I'd filled out all the details prior to arriving, I had a green tick on my app so when I went to check in, I was able to go straight through.
"I only had carry on luggage and I'd pre-registered my credit card, so I went to the counter and they asked me a couple of questions about health and contact with anyone experiencing illness. They then took a photo of me and checked me in, scanned my luggage at security and I was straight onto the ship.
"Once on board, I could remove my mask, and I went straight to my room where my key was waiting for me and dropped off my bag, and I'm such an unpacker that it's literally the first thing I do."
Assortment of dining choices
There's no shortage of food on the Pacific Explorer, the ship boasts over 10 places to eat and has a range of in-room dining options, allowing cruisers the option to eat somewhere new for every meal.
"The buffet onboard called The Pantry had sanitising stations as well as water and soap stations set up. So once I'd washed my hands, I went through and they had an area where people were serving hot food, but also a couple of self serve stations for you to help yourself," Joseph said.
"Like a lot of restaurants are doing in buffets, you just walk up and tell them which foods you'd like and they would dish the food out onto a plate for you. For breakfast, it was self-served fruit and muesli, cereals and those sorts of things, but the hot meals such as scrambled eggs and bacon were handed to you by staff. You're also welcome to take the food out of the restaurant and eat on the pool deck if you wanted.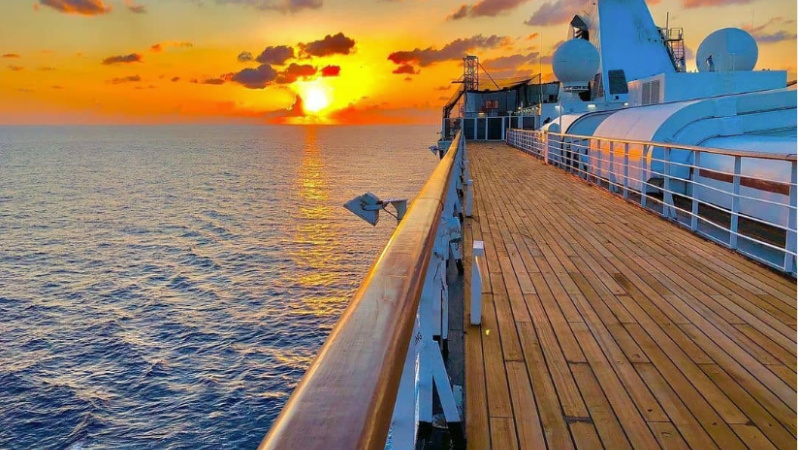 "As well as the buffet, the ship also offers an Asian, and an Italian restaurant as part of the free inclusions. All these complimentary restaurants apart from the buffet, provide three courses with full wait service, you just have to purchase your drinks. You really do eat like a king and queen on a cruise ship, I don't know many people that eat three courses every day!
"There are also a couple of other places you can eat at for an additional charge, including a signature restaurant run by chef Luke Mangan on board. With this huge selection, I was able to get a bunch of different views from the ship with all the various places I could sit and eat, the wait staff were very attentive, and the meals were high quality and the perfect size.
"Plus they have a 24-hour pizza place where I might have had a midnight snack and taken pizza back to my room, but that would be telling! But yes, you can have a 1 am pizza snack if you so desire."
Broad range of entertainment
P&O offer a diverse range of entertainment, ranging from casinos, clubs, movies and theatre productions. Joseph said she enjoyed going to the theatre and seeing a new show each day.
"Every night they would have a show in one of the theatres, now, because it's harder to social distance in this space, you do have to wear a mask in the theatres," she said.
"The first night, I saw Johnny Balance, who is a magician, and he did some magic tricks and balanced a few things. I won't give you all the details because you have to see the show, it's quite impressive. The second night I saw the stage production Seven, which was based on the seven deadly sins, and each of the deadly sins had its own song and dance theme. Then the third night they had their show called Rock of Ages, where the same cast performed different rock songs with a live band, getting the audience involved.
"There was also a fourth show, called the Purple Rabbit, for adults only and I also won't give details away for this one. There is a small charge for this particular show, but I highly recommend it because the tricks and things on display were quite impressive. But like I said, it is strictly adults-only, and if you're easily offended you might want to give it a miss!
"They do also have some comedians on board, these are also 18 years and over."
Joseph said the new measures put in place to the reopened cruising industry can offer cruisers peace of mind, knowing they'll have all the fun they used to, plus added safety minimising the risk of spreading illness.
There's no better time to cruise than now
Starts at 60 Group CEO Rebecca Wilson says it's great to see this aspect of the travel industry up and running.
"This is the first cruise ship to return to Australian waters and this cruise was a real test run for both the ship and the many officials that manage safety, sanitation and port operations, with many of the industry on board," Wilson said.
"It's great to hear the sanitation at a high level and exciting to hear that dining rooms and entertainment are back with a vengeance. Cruising has been such a missing part of travel in the last 3 years."
P&O's Pacific Explorer was the first ship to hit Australian waters since the pandemic, sailing into Sydney Harbour's Circular Quay on April 18, met with a celebration of water canons and a large banner won across the ship that read "WE'RE HOME".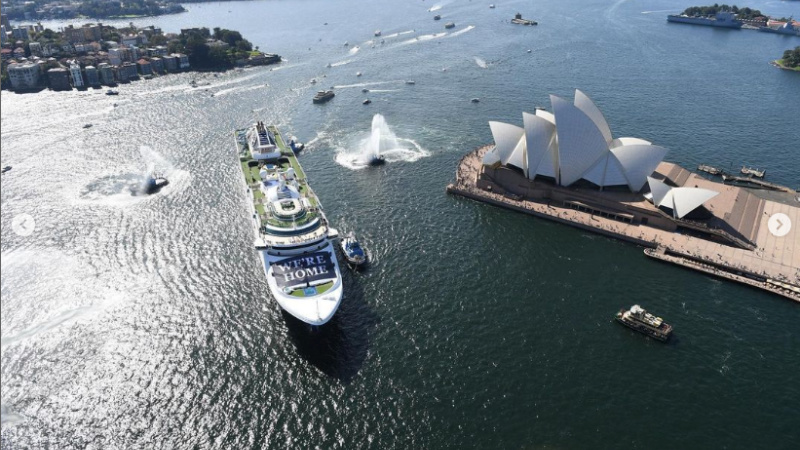 Chief Commercial Officer of Travel at 60, Wendy Harch said the cruises have already begun to sell out in the short period that they've returned.
"Cruise restarted just over a week ago and people are starting to be very curious, with many of the cabins booking out fast," Harch said.
"P&O is the first ship to return to sailing, so they've been a great test case, working closely with the Australian Government as the industry re-mobilises. And from this month on, there will be a continuous stream of ships returning to Australian waters."
Travel at 60 currently has a special on all P&O cruises; until June 7 secure your dream cruise for a $1 deposit and better yet, receive FREE onboard spending credit when you book with Travel at 60 until June 13.
Travel at 60 is taking bookings for all major cruise lines. Sign up for the Travel at 60 emailer here to get access to new releases and amazing deals as they arrive.
At Travel at 60 you get the same travel consultant on your quote, through to your booking through to your departure documentation so you've got the same person. You're not ringing a call centre where you go into the mix. You can ask to speak to that same consultant and they will look after you all the way through. Travel at 60 are a small and friendly team based in Australia who really look forward to helping you book your next cruise.