Naturally I was keen to visit Djemaa El-Fna as soon as possible, having read so much about it. And it didn't disappoint. The square is edged along one side by the souks, traditional markets catering both for the daily needs of the locals as well as the tourist trade. These vibrant markets are a whirlwind of colour and noise, where throngs of people weave between tightly packed stalls exhibiting pyramids of brightly coloured spices, richly woven rugs and a thousand other exotic goods. On other sides are hotels and gardens and café terraces, and narrow streets lead into the alleys of the medina quarter.
Marrakech has the largest traditional market in Morocco, with some 18 souks selling wares ranging from traditional Berber carpets to modern consumer electronics. Crafts employ a significant percentage of the population, who primarily sell their products to tourists. The vendors in this medina were the most aggressive of any we had encountered so far. They seemed not to understand English, but I think that was all part of the guise. I managed to communicate with them in French – they could hardly deny comprehension of that! Still, telling them we were not interested in buying something we had just stopped to marvel at was a real battle.
Also near the square, the Koutoubia Mosque is the largest mosque in the city. The minaret, 77 metres in height, is built with red brick and includes a spire and orbs. It was completed in the late 12th century and has inspired other buildings such as the Hassan Tower in Rabat. It is visible throughout the city, making it a useful landmark for taking one's bearings.
As soon as the sun began to wane, locals emerged in their hundreds and crowded Djemaa El-Fna, together with tourists, story-tellers, musicians, performers and snake charmers, while stalls that had been set up to serve food did a roaring trade. There was all manner of grilled meats and local delicacies and it was hard to choose. The air was thick with steam and smoke from the braziers and the sights and smells were just intoxicating.
Long tables were laid out with bench seats where locals and tourists sat side by side, savouring the kebabs, salads, tagines, snails and offal meats, and drinking mint tea.
Later we discovered a café on one side of the square selling ice-cream, with an upstairs balcony affording wonderful views of the activity below.
Next day was a free day for us, our driver having returned home and our new guide still to make contact. At last hubby was able to book a round of golf at the Royal Marrakech Golf Club, a short taxi ride to the south east, while I wandered to my heart's content around the souks.
The Royal Marrakech club was founded in 1927 with four holes by the then Pasha of Marrakech, T'hami El Glaoui. It was added to over the next five years, with substantial plantings of different tree species such as eucalyptus, cypress, palm and olive trees, making it a lush and elegant course. Floodlights have been added to the old Menara course enabling play after the heat of the day. This 9th hole is known as the Brigitte Bardot hole (for the shape of the mounds!)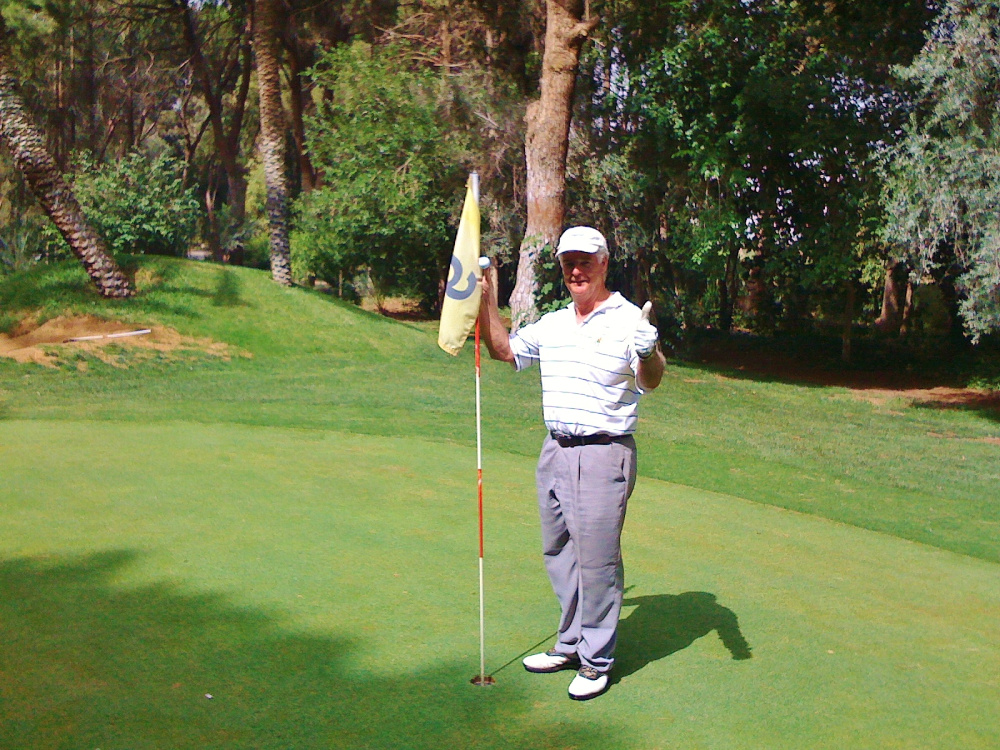 It was very hot again on hubby's chosen day, so few golfers were mad enough to play. He was matched up with a caddy and the two of them set forth for a relaxing few hours. Lo and behold, he managed to score a hole in one on the par 3, 9th hole, but on returning to the clubhouse there was no-one but the caddy to celebrate with. He couldn't even "shout the bar" with a beer, as the club strictly enforced the no alcohol rule. (Hubby drank more diet Coke on this trip than he had done in his life before!)
My ramblings down the alleyways of the souks had led me to an outer area not usually frequented by tourists. Upon seeing my aimless drifting, a young man befriended me with an excuse to practice his English, and guided me back towards the square. Along the way he invited me to visit his uncle's traditional apothecary and his real intent became clear. Although I found it very interesting, I was quick to point out I had no room in my luggage for further purchases and that Australian customs would probably confiscate some of the items should I try. Nevertheless I was grateful he had steered me back to familiar territory and could now buy a drink to quench my thirst in such heat.
In the square during the day there are lots of wagons selling freshly squeezed orange juice, which tempted me. Later that day I regretted it as my body's response to the local bacteria was not pleasant.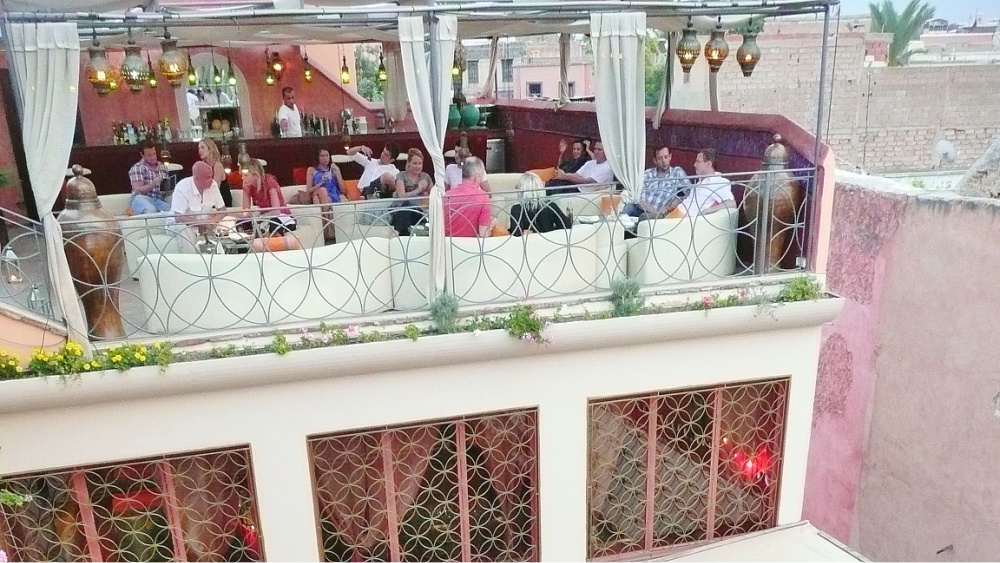 By evening, with me now somewhat recovered, we ventured out to celebrate hubby's golfing success. We had already tried tagines and couscous a number of times on this trip, so when we found a rooftop Italian restaurant that actually served wine, we were sold!
Our new guide collected us the next morning for a trip out to Ouarzazate and the spectacular mountain desert region to the east. (More about that in the next blog.)
So back we went to the souks to find some small souvenirs, along the way meeting up with a man who claimed he was also staying at our riad. He walked with us explaining that today was our lucky day (yes, I know), because there was a special exhibition of Berber rugs being held in the medina, and would we like him to guide us there? I'm always up for an adventure, so despite hubby's protests, we allowed ourselves to be escorted to a carpet stall where rug after rug was thrown down on the floor before us to try and convince us to buy.
Bingo! There was one of the right colours and proportions that stole my heart and we spent the next half hour haggling over the price and delivery. (Vin feared we would never see the money or the rug again, but it was FEDEXed to Melbourne a week or so later.)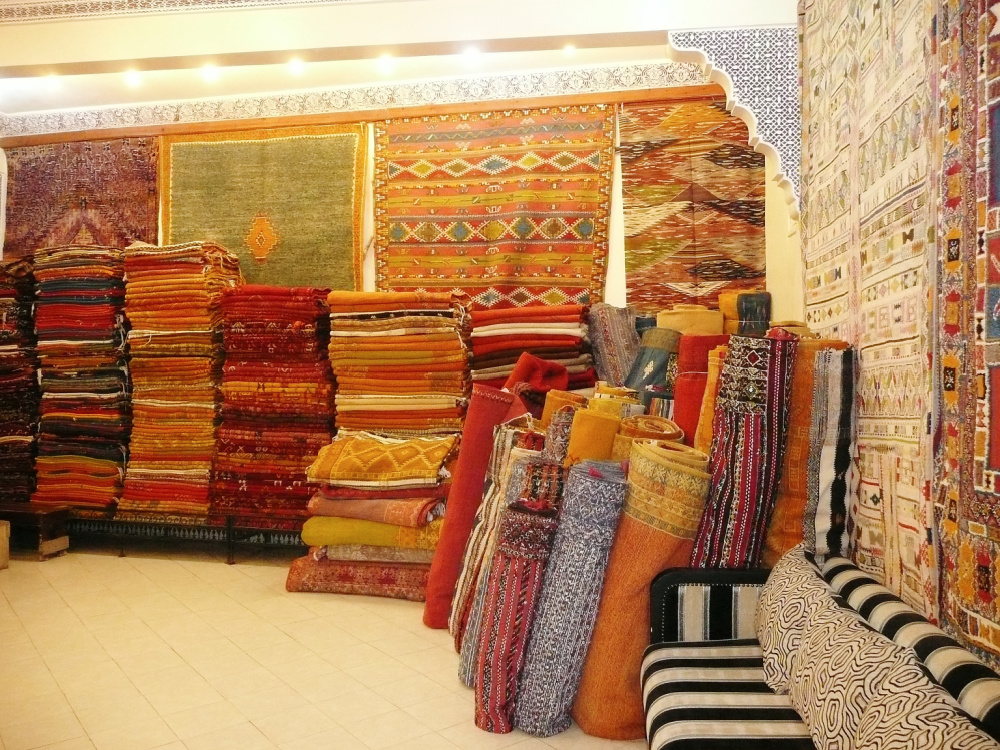 Of all the cities in Morocco we visited, Marrakech would have had to be the most vibrant and exciting for me. It has a more cosmopolitan flavour to it and English is widely understood. No doubt these are the same reasons international jet setters are reputed to own so many homes here.