Next we went to Lato; perched on a prominence 4 kilometres (2.5 miles) out of Kritsa with sweeping views over the lower slopes and all the way across to Agios Nikolaos and Mirabellou Bay beyond. It had been a city state in its time, notably around the 2nd century BC and the ruins were quite evocative though Lorraine, needing a toilet stop where there wasn't one, was finding the going a little tough.
This settlement had been of Doric origin and the remains were fairly extensive; a house here, a storeroom there, a place of worship just beyond, and all on this outcrop of rock seemingly, these days, in the middle of nowhere. The broad rough-hewn stonework would have provided some protection from the cold winds that surely blasted across here from time to time. Because of the steep gradient, many of the houses were entered from the roof of the one beneath.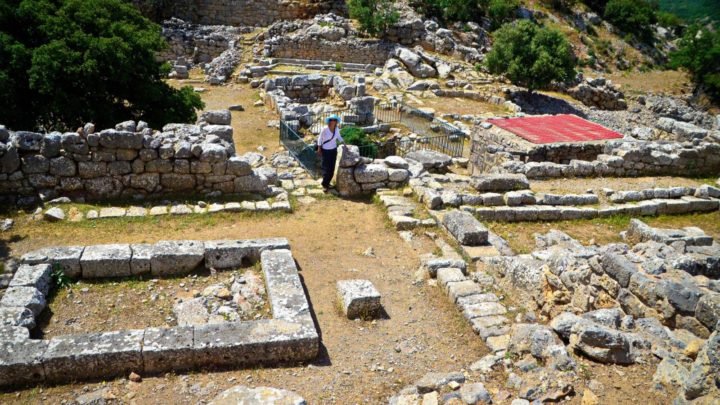 There are layers here, the further they dig the more they find. Late Minoan (12th century BC) pottery has even been unearthed and Hellenic remains from the 6th century BC. The small theatre follows all the other Greek ones I've seen with beautiful landscapes beyond; I've often pondered if this was to keep the patrons occupied during scene changes or if it was a bad play.
Lorraine was keen to leave; well, that is, until she saw a plant, one we later found out was a dragon flower, an extraordinary thing that looks like an oversized lily with a tongue that feels like leather. I had to drag her away after that.
On the way up Lorraine noticed there was a sign to a gorge. You might miss the sign but you could hardly miss the gorge. It stuck out about a kilometre away and certainly had me thinking about it, but Lorraine was the driving force on this occasion. As we returned to Kritsa we noted where the turnoff was and motored on to have some lunch.
We'd gone to Kritsa so Lorraine might purchase more lace work. The place was awash with it, billowing in the wind like sails in a stiff breeze as their outside displays were buffeted by a moderate blow that danced through the narrow streets, branching this way and that.
The wares were displayed seemingly on anything that came to hand; tables, chairs, racks and bits of wire strung from invisible points all came into play beneath timeworn balconies flecked with rust and black lichen. Lorraine was like a rabbit, in and out of every second hole, popping out when least expected then plunging into the dark warrens yet again.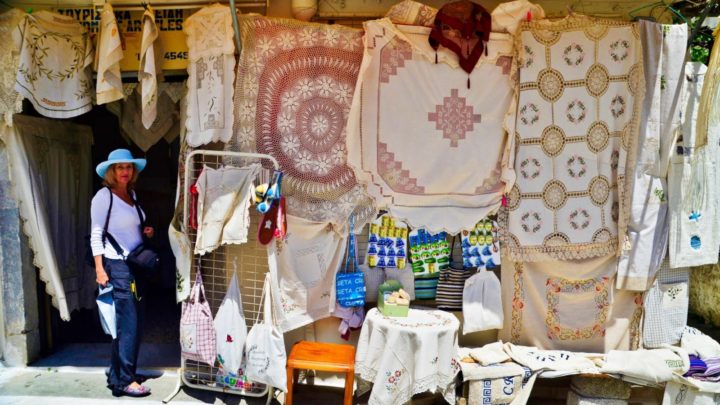 Her shopping over we enjoyed a first floor balcony view from a local taverna, downing some moussaka and fish and deciding to chance our arm (leg actually) at the local gorge.
Finding the sign again to Kritsa Gorge we turned up an unlikely path, going only about 200 metres (218 yards) before Lorraine's nerves decided that was it for motorised transport. We alighted and discovered that the track entry, scribbled on a bit of board, was only about 100m (109 yards) further uphill.
It looked like the gorge was only a short walk before it closed off as we stepped out down a narrow track beside the 7,000th olive grove we'd encountered. Then we reached it. The further you went the more impressive it became.
The jagged sharp rocks betrayed their volcanic origin, the browns and greys reaching staggering heights above our heads as we plunged along the dry riverbed and its large rounded rocks. It wasn't an easy walk and after about 20 minutes it got a whole lot harder as we had to negotiate an impregnated ladder to reach the next level, though level was something this gorge definitely was not.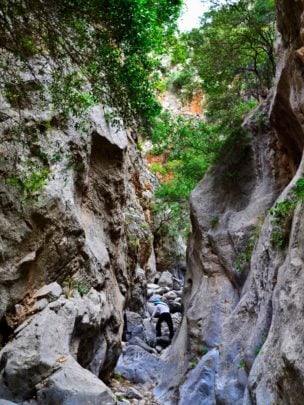 Not long after you had to traverse on another set of rungs then haul yourself through a gap to get into the next slot. Lorraine soldiered on where I thought she might have quit; but it was exhilarating stuff at the same time. There were times when you were sure the end was nigh but another gap would appear.
It was around then we met the Germans and they informed us that it was about another 30 minutes to the best spot where the gorge divided, but the whole walk was 5 hours. Since we'd programmed ourselves to only go for 45 minutes we realised the best spot was unobtainable for us but it wasn't long after when nature played its hand.
Suddenly the bells of the goats that we continually heard on high were superseded by thunder and a rapidly darkening sky immediately had Lorraine thinking of masses of water flooding the canyon and us with nowhere to go; up was not an option in this place. We retreated to an overhang we'd recently passed as the droplets, some quite large, commenced tumbling from the sky. Occasionally rocks would crash down from above, which did little to calm our nerves. We later learned that it's the goats that continually dislodge them.
We took shelter and hoped it wouldn't last for too long. Our brief experiences with Cretan weather indicated that it would only be a shower. The minutes dragged by, little rivulets formed here and there; anxiety levels were held in check as we conversed about many things and then, as if by providence, the clouds lit up, signalling the end of the rain. The claustrophobia of the canyon somehow seemed reassuring in one way yet causing anxiety in another.
We retreated, backtracking and easing our way back down the slippery rocks, even getting our feet momentarily wet in a pool. It was just after that when the French couple came past; they were drenched from head to foot whilst we had nary a drop upon us and now the sun was returning.
It was only 10 minutes later that we re-passed them, he apparently naked behind a large rock as we noted all his clothes lying elsewhere. I restrained Lorraine from going to have a look and we continued on, getting back out in good time to travel to Agios Nikolaos for a wonderful afternoon tea by the sea. Kritsa was a name we will not forget in a hurry.
Been travelling? Travel at 60 wants to publish your story. Simply sign up as a contributor and submit your stories. When your story is published, you'll go into the draw to win some great weekly prizes. You can also join the Travel at 60 Travel Lovers Club on Facebook to talk to other travellers in the Travel at 60 community.