The wait is almost over! It's time to get excited about cruising again, and where better to start than with an indulgent experience on Queen Elizabeth.
Widely assumed to be named after Her Majesty The Queen (but actually named after the original RMS Queen Elizabeth ship, named in turn after the late Queen Mother), this ship captures the romance of the sea with gala evenings, art deco décor and white-glove service that will take you back to the heydays of cruising.
Christened by Queen Elizabeth in October 2010, this ship is quintessentially British and proudly displays strong links to the royal family. A portrait of Queen Elizabeth II is a highlight of the grand lobby. You can indulge in British treats such as afternoon tea or a game of croquet. However, there are also plenty of modern activities, including whirlpools and karaoke, along with a computer centre.
Get dressed in your finest black tie for a Gala Evening/Night
This is a cruise where you can really frock up! The Gala Evenings are a cruise highlight and generate much excitement. It's like a scene from a glamourous 1920s Hollywood movie when guests emerge from their rooms to reveal their evening wear glory. From ball gowns to tuxedos, there is plenty to amaze and admire.
An indulgent hour of Afternoon Tea served by white-gloved waiters
Every day at 3.30 pm, white-gloved waiters serve Afternoon Tea in the Queen's Room which was modelled on Queen Victoria's ballroom at Osbourne House, her Isle of Wight summer residence. Styled as a classically British special occasion with freshly cut cucumber sandwiches, just-baked scones and moreish pastries. While the orchestra plays in the background, you'll be sipping on fine leaf tea, Twinnings, of course!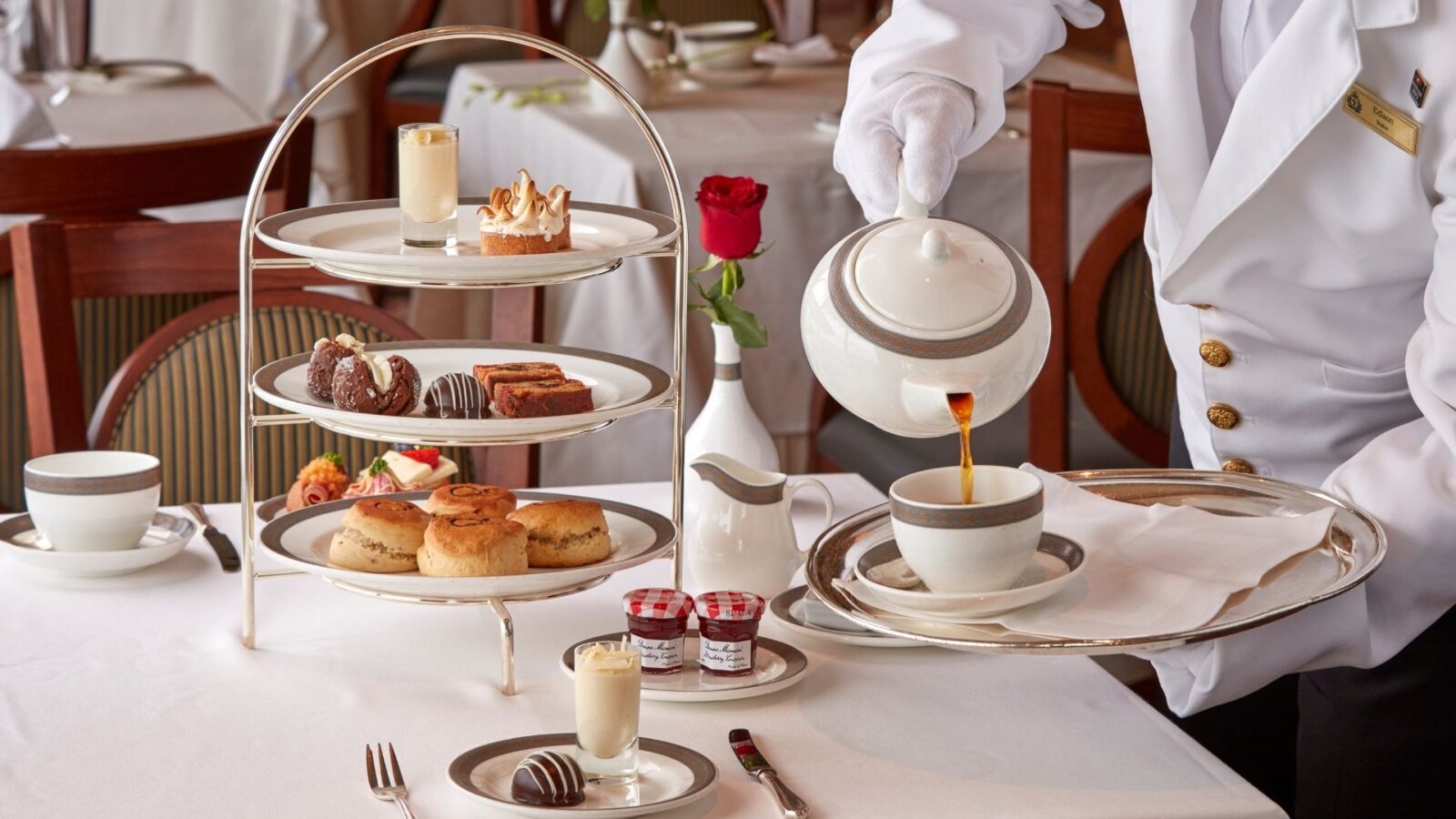 Sparkling evening performances
Check the Daily Program which is your go-to list for all the daily activities and entertainment available every evening on your cruise. You can dance, watch a show, or relax with live music. You won't want to miss the dazzling singers & dancers when they stage their fabulous West End-style productions or abridged Shakespeare performances in the three-tier, 850-seat Royal Court Theatre. It draws its design from London's Palladium in West End and even has private boxes! There is a talented line-up of vocalists and instrumentalists, illusionists and aerial performers, variety of entertainers and stand-up comedians to keep you entertained.