Red dirt, endless blue skies and desert plains – this is what springs to mind for many when they think of the Northern Territory. But there's much more to this fascinating part of Australia. Put simply, it's an immersive cultural experience that you'd be hard-pressed to find anywhere else on the globe.
Starts at 60 has chosen nine major experiences and events that we think you absolutely should add to your NT bucket list in 2021. They reach right from the Red Centre to the Top End – and you could even tick off a few during one month.
Uluru, of course, must remain on your itinerary. Standing at 348 metres high, it's one of the world's largest monoliths and at some 550 million years old, one of the most culturally significant places in Australia – particularly for the local Indigenous Australians the Anangu. You can learn all about its importance from traditional owners on a walk around Uluru or take a ride on a camel to see it from a different vantage point.
Or for a truly magical experience ,you can view the monolith at night when the Field of Light comes to life. This spectacular art installation – also known as Tili Wiru Tjuta Nyakutjaku by the local community – was created by acclaimed artist Bruce Munro and its traditional name means "looking at lots of beautiful lights". While the photos of the installation are incredible – and would make a great piece of art in your living room – seeing it in person is a whole different experience.
It's not just cultural experiences that make Uluru popular, though. For the past eight years locals and tourists have gathered for a fun-filled weekend of activities in true Aussie outback style for the Uluru Camel Cup. There's live entertainment, camel races, outback games such as whip cracking and a Fashions on the Field event. This year it takes place on May 29, with a true-blue Frock Up & Rock Up Gala Ball set under the sparkling night sky ending the festivities.
But make sure not to waste all your energy because just 40 kilometres west of Uluru lies Kata Tjuta – another incredible natural wonder and cultural landmark. The best way to experience its mesmerising beauty is on a hike. The Valley of the Winds Walk is the longest at 7.4km and while it surely will get the heart pumping, the views will be worth it. There are also much easier short walks if you'd prefer.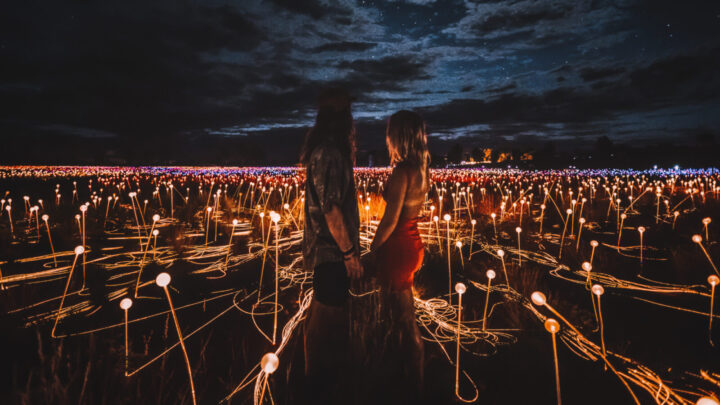 The closest city to this magical part of Australia is Alice Springs (five hours drive north-east). Here you can meet talented Aboriginal artists, get the heart racing on a four-wheel-drive adventure, or take things to the next level and float into the air on a hot-air balloon ride at sunrise. Plus, if you're there at the right time of the year there are three main events Alice Springs is famous for.
From March 12-14 this year the city will transform into a kaleidoscope of colour for the FABalice Festival – or rainbow festival, as it's known, that celebrates the LGBT community. There'll be drag and cabaret performances, a pageant, a pool party and an outdoor cinema to entertain the "kings, queens and everything in between".
Still in Alice Springs, from April 9-18 the annual Parrtjima event takes over. It's the only authentic Aboriginal light festival of its kind, set against the majestic MacDonnell Ranges. You can also enjoy live talks, workshops and music by local and national artists over the 10-day festival.
Parrtjima transforms the outback landscape of Alice Springs Desert Park into a living, breathing canvas. This includes the lighting of two kilometres of the MacDonnell Ranges, and a selection of larger-than-life light installations that share ancient stories.