Explore the untouched East Coast
Grand Terre's eastern coast is charmingly authentic and unspoilt. Its most famous attraction is 'La Poule' off the coast of Hienghene,  which, as its name suggests, is a hen-shaped limestone structure that looms over sparkling blue waters. Going underwater reveals a trove of marine treasures, from the rare ribbon eels living near Tibarama Islet to Hienghene's Cathedral (no, it's not made of bricks – this is a spectacular coral forest), it will definitely be worth your while to get into the water at the site of this natural wonder.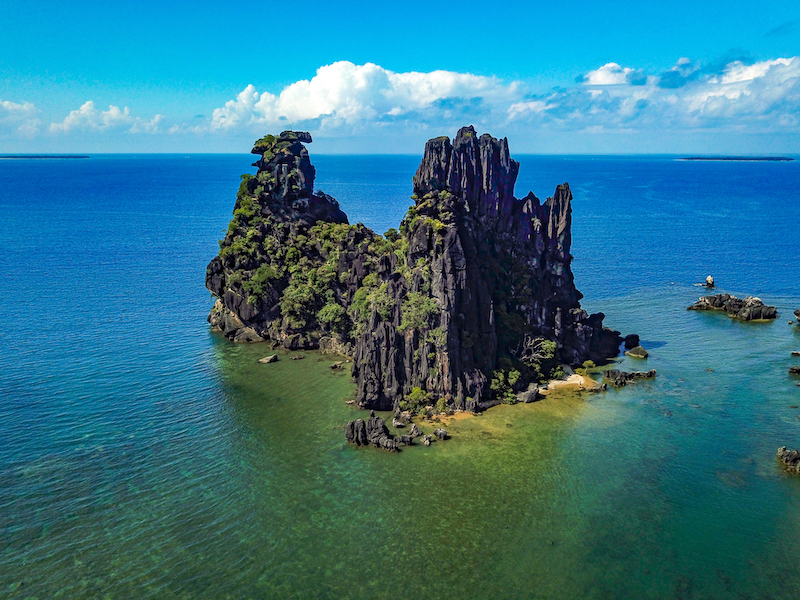 Get to the heart of the matter
New Caledonia is probably the only country where you can get right to the 'heart' of nature, pun very much intended! Not only will an ultralight flight take you over the famous Heart of Voh, formed naturally by the mangrove plants on Grand Terre's West Coast, it can also show you the less well-known underwater heart made of corals in Poe Lagoon.
And of course, all the other things you'd expect …
Beyond these unusual and beautiful attractions, New Caledonia offers all of the other drawcards you know and love in any tropical island.
Get back on the blacktop
If you love the idea of taking in these stunning sights at your own pace and in your own time, there's no better way to do so than on a self-drive holiday. Grand Terre's roads are well-maintained and its scenery from one coast to the next is so diverse that you'll feel you're in a different world without ever leaving the island. You can hire a car on your arrival at La Tontouta International Airport near Noumea or ask your accommodation provider for help.
We recommend spending a few days on a round-trip journey from Noumea up the wild West Coast and down the East Coast, returning via the Great South, so you can discover quaint towns such as Poingam, Poindimié and Sarraméa along the way.
With all of the exciting options on offer and its proximity to Australia's east coast, New Caledonia is perfect for an easy-going, budget-friendly break. If any of these attractions caught your eye, use this interactive map to see where each of them are located and dream up your ideal French-flavoured island escape!