Whether on a day trip or for a few days away, we feel as though we have left the world behind. Yet Brisbane's backdoor paradise is only a short ferry trip away.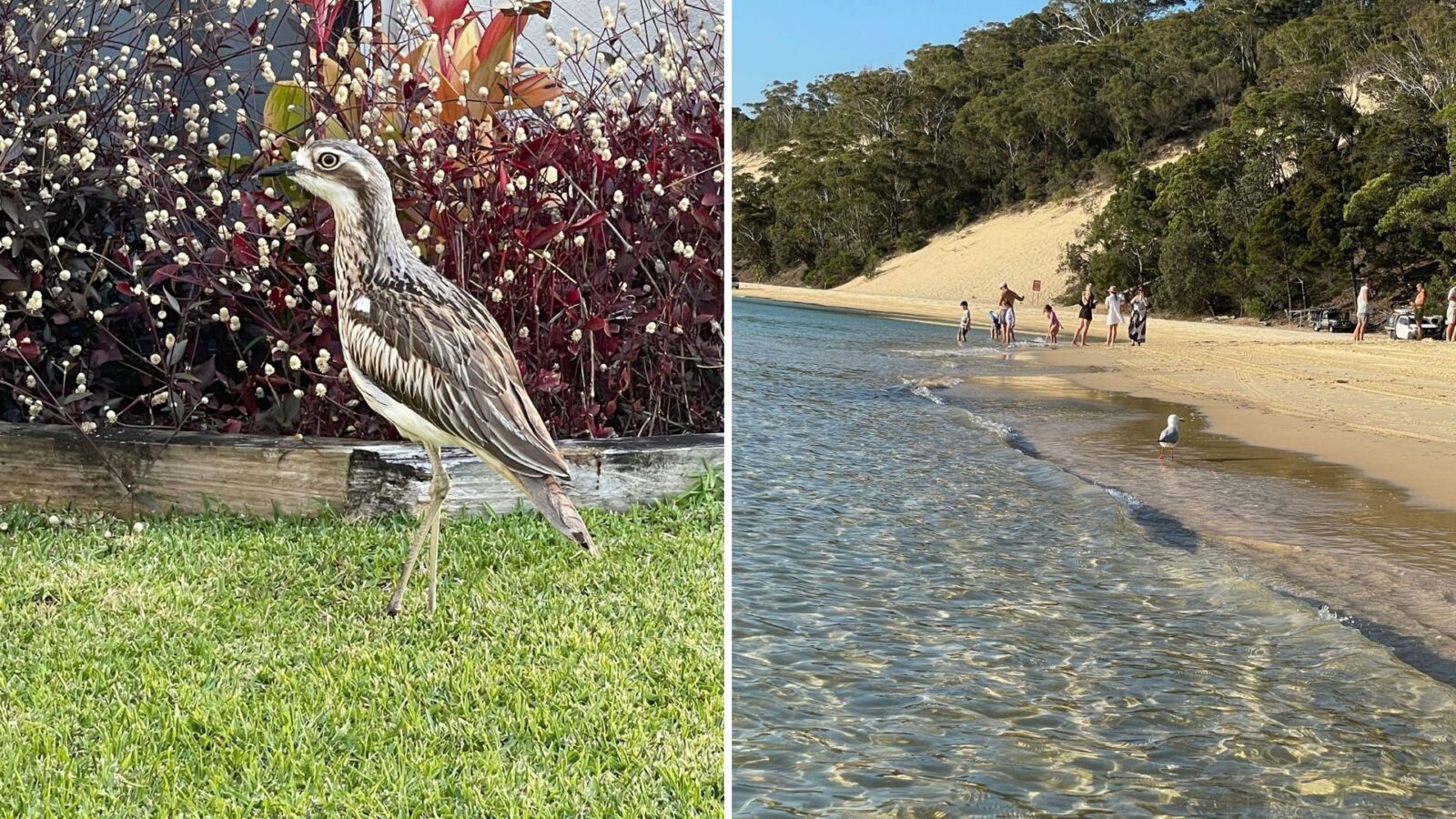 Getting to Moreton Island
Driving you have the option of parking next to the ferry at $20 per day. I am 15 minutes from the terminal, so it's cheaper to catch a taxi or Uber.
Flying into Brisbane Airport it is a 10–15-minute taxi ride to the passenger ferry docked at 220 Holt St Wharf, Pinkenba.
The ferry to Tangalooma takes around 75 minutes to where the main resort, accommodation and facilities are located. It operates seven days a week with four standard daily departure times from Brisbane. They include a late return for the sunset dolphin feeding for day visitors.
There is another boat that takes you directly to the shipwrecks and a barge service from Victoria Point for campers to access the eastern side of the island. A 4WD is needed to traverse the rugged unsealed sandy roads.
Campers require a permit to drive or camp in the Moreton Island Recreation Area of Quandamooka Country, which is managed through Mulgumpin Camping. Queensland Government, Parks and Forests Department of Environment and Science have detailed information via the online links below.
On arrival & accommodation
It doesn't take long for the landscape to change as the ferry cruises through Moreton Bay to a place of serenity. It's the yellow patches of dunes between bushy hilltops that first catch your attention in the distance.
It's a magical sight particularly as the deep blue rippled waves transform into transparent calm water. It's as if an artist's brush has painted a wide strip of aqua around the golden shoreline.
Accommodation at the Tangalooma Island Resort has a wide range of styles and packages to suit everyone.  For overnighters, a wonderful bonus is the Wild Dolphin feeding included in your package.
Your bags are delivered to your apartment door. You can walk from the ferry to the resort but there is a pick-up buggy available.
Check-in at the Reception Centre is the first point of call followed by a visit to the Eco Centre. Eco Rangers will provide you with an insight into the environment, wildlife and Moreton Islands history.
The history of the Tangalooma Whaling Station is confronting to discover that it wasn't until 1962 that the whaling station closed. By then the east coast's humpback whale population had been seriously decimated from an estimated 15,000 whales to less than 500. In 1965 humpback whales were placed on the Protected Species list,
Today, endangered animals frequent the area which is exciting as they skittle across the paved pathways during walks. It is common to see whales, dugongs, turtles, stingrays, marine birds, and dolphins right on the shores.
Things to do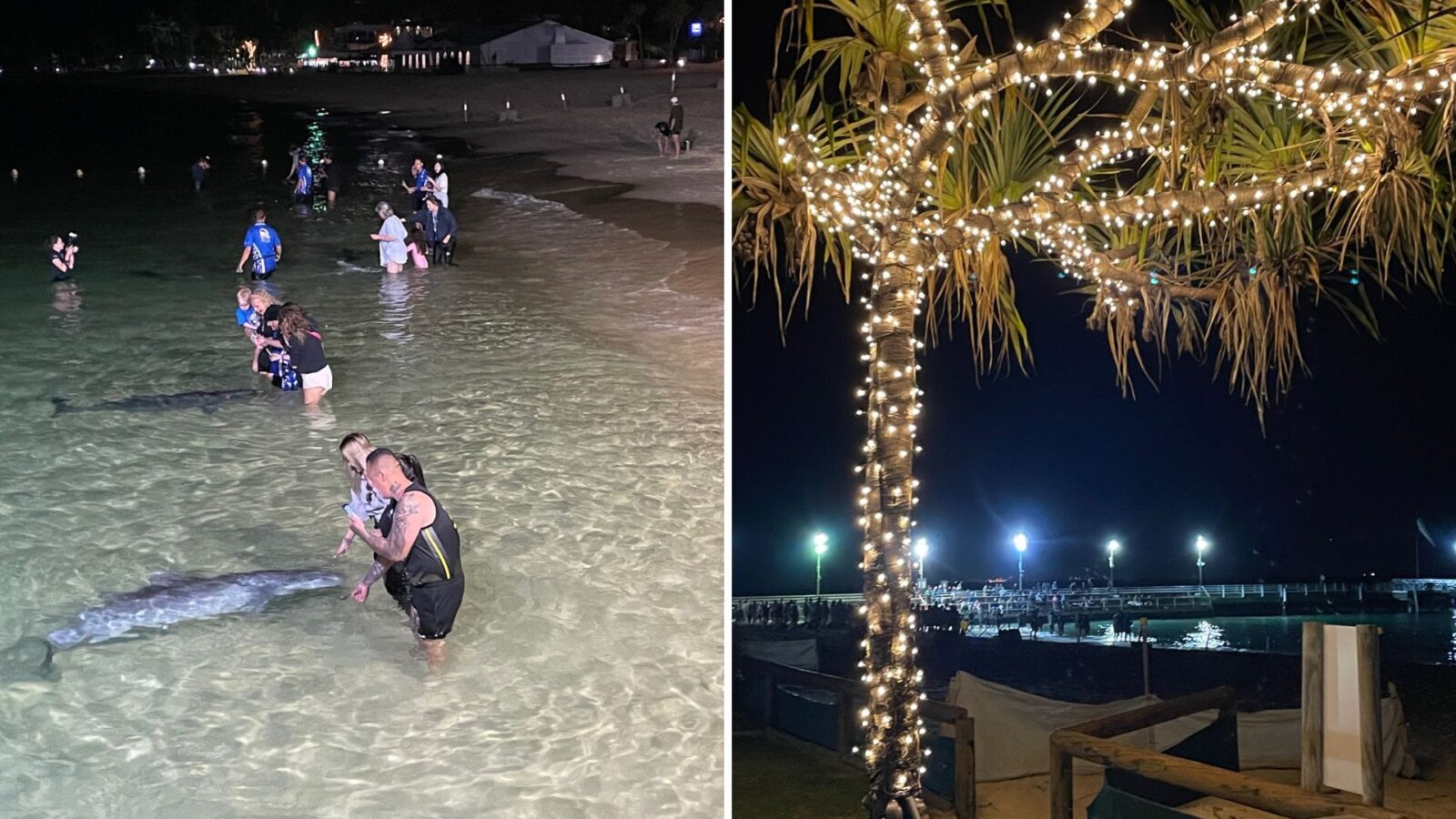 I grabbed a What's On Guide from the tours desk, it's needed to plan your day or you can download the What's On Guide app.
Feeding the birds can only be practiced by the Eco Rangers but you have an opportunity to witness the daily feeding of kookaburras and the pelicans as they wander around the jetty.
There are many options such as scenic helicopter trips, snorkelling over 15 different shipwrecks, quad bike tours, clear bottom marine boats, kayaking, scuba diving, stand-up paddle boarding, Segway tours, parasailing, bushwalking, and 4WD hire.
For a chill-out day, there are yoga classes and a massage therapist. The resort pools are also a wonderful way to chill under the palm trees as an option for swimming in the sea.
Needless to say, the sunset dolphin feeding is a memorable experience and people flock to participate. It's extremely well synchronised and they have specially designed marine wheelchairs for water access.
Dining
Everything is within walking distance with a range of restaurant options. Room delivery is available for those too exhausted to go out at night.  Many apartments have cooking facilities. I enjoy sunset drinks on The Wheelhouse Deck located above B&B's bar. Other times my guests love my soirees at our apartment watching the sun reflect on the water before it settles for the evening.
The staff could not be more accommodating, nothing is a problem. Within hours you find yourself throwing away the stylish dress and shorts and wrapping your sarong around your swimsuit. I still cannot believe my luck finding Moreton Island when I moved to Queensland.
The brochures say, so close, yet so far away – it's true.