"It's been so much fun.
"It's been amazing. Thank you, everybody. I've had so many people cheer me on. And you guys here tonight, it means the world.
"I enjoyed tying my shoes one more time. Everything was the last time. And funny enough, with all the matches and having the guys being here – fans, family, friends – I didn't feel the stress so much, even though I did think I'd pop a calf, or block a back or something in the match.
"So I am so happy I made it through. The match was great. I couldn't be happier. It's been wonderful. And of course, playing with Rafa on the same team and having the guys – everybody here, all the legends – Rocket, Edberg, Stefan, thank you.
"It does feel like a celebration to me. I wanted it to feel like this at the end and it's exactly what I hoped for. So thank you."
As the tennis community and fans across the globe bid an emotional goodbye to the 20-time Grand Slam winner, Kyrgios instead chose to poke fun at his longtime rival Novak Djokovic.
"Novak knows his chance for slams is better now. Rafa is shattered," Kyrgios wrote, alongside a moving image of a tearful Rafael Nadal and a smiling Djokovic as Federer delivered his emotional retirement speech.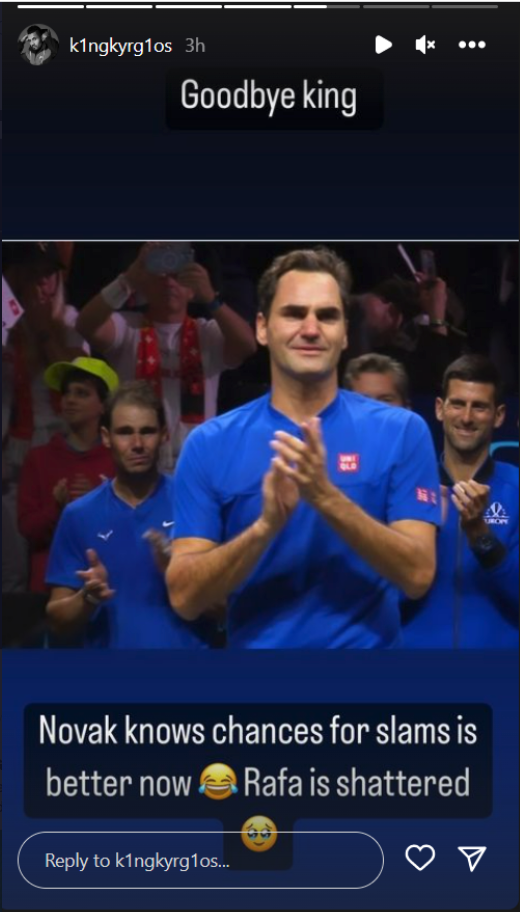 Fans across the globe were quick to chastise Kyrgios for his seemingly insensitive post, with one social media user claiming the tennis star "has the maturity level of a middle schooler".
"To my tennis family and beyond," the Swiss player said in his retirement announcement.
"Of all the gifts that tennis has given me over the years, the greatest, without a doubt, has been the people I've met along the way: my friends, my competitors, and most of all the fans who give the sport its life. Today I want to share some news with all of you.
"As many of you know, the past three years have presented me with challenges in the form of injuries and surgeries. I've worked hard to return to full competitive form. But I also know my body's capacities and limits, and its message to me lately has been clear. I am 41 years old. I have played more than 1500 matches over 24 years. Tennis has treated me more generously than I ever would have dreamt, and now I must recognize when it is time to end my competitive career.
"The Laver Cup next week in London will be my final ATP event. I will play more tennis in the future, of course, but just not in Grand Slams or on the tour.
"This is a bittersweet decision, because I will miss everything the tour has given me. But at the same time, there is so much to celebrate. I consider myself one of the most fortunate people on Earth. I was given a special talent to play tennis, and I did it at a level that I never imagined, for much longer than I ever thought possible."