Political career
Colbeck began his political career in 2001, when he was first elected as a senator for Tasmania. He assumed his ministerial role in October 2004, when he was appointed as parliamentary secretary to the minister for agriculture, fisheries and forestry, which he held until January 2006.
He followed this role with that of parliamentary secretary to the minister for finance and administration between January 2006 and December 2007, and parliamentary secretary to the minister for agriculture from September 2013 to September 2015.
Throughout his 18-year career in Canberra, the Liberal pollie has progressed through a series of roles, both within government and the shadow ministry during Labor's years in power, including a 10-month stint as minister for tourism and international education between September 2015 and July 2016.
Before the federal election, Colbeck served as assistant minister for agriculture and water resources, a role he picked up after Scott Morrison ousted Malcolm Turnbull in August 2018.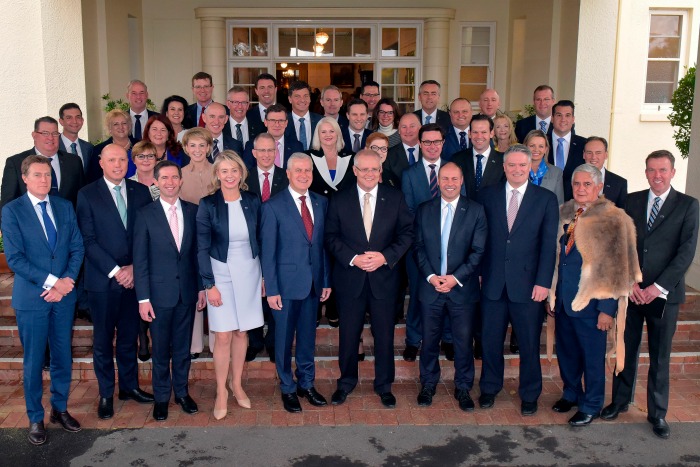 Life outside of politics
Senator Colbeck was born and raised in Tassie, living on the north-west coast for most of his life. He is married to wife Gaylene and the couple have three children together. According to his website, they also share their home with "two cats and one very large dog".
Prior to entering politics, the 61-year-old spent more than two decades working in the construction industry, having begun his career as an apprentice carpenter.
He also previously served as president of the Devonport Chamber of Commerce, and as a director of the Tasmanian Chamber of Commerce and Industry. He was also an Alderman of the Devonport City Council.
According to his official bio on the Department of Health's website, Colbeck became involved in politics due to his "involvement with industry, business and school representative roles".
What has he said about his new role?
"It is an important time in these portfolios, particularly with the Aged Care Royal Commission underway and the need to support senior Australians in their later life," he said in a statement earlier this week. "Fundamentally, this portfolio is all about people, which is what makes it so exciting."
Aged care isn't the only portfolio he is taking on though, as Colbeck has also been sworn in as minister for youth, while he also inherited the sport portfolio from Deputy Leader of the Nationals Bridget McKenzie.
"I am delighted to take on the role of Minister for Youth, to support Australia's next generation to make the most of the exciting opportunities our country has in the coming years," he added.
"There is always plenty to do in the area of sport and I look forward to continuing the Liberal National Government's focus on local and community sport, including the booming area of female participation.
What do you think about Scott Morrison's ministry appointments?