Slipping into a little black dress, Kim puts the Nintendo Switch into her Chanel bag and says seductively to the camera: "There are many men in my life, but for a few minutes, or a few hours, I'll always find time for Mario."
Fans of the Sex and the City (SATC) franchise were thrilled to see the 63-year-old actress channelling Samantha Jones again, with several taking to Twitter to express their support for the ad. One user wrote: "Fully losing my mind over this Nintendo ad where Kim Cattratt is horny for Mario??!!??".
Samantha was a firm favourite for many viewers of the show, thanks to the sexual hijinks she got up to throughout the six seasons of the series and two movies. From her countless dating disasters and crazy sexcapades to exploring a lesbian relationship and battling breast cancer, Samantha changed the narrative around what it means to be a single woman, so it's little wonder Kim received a Screen Actors Guild Award and a Golden Globe for her portrayal.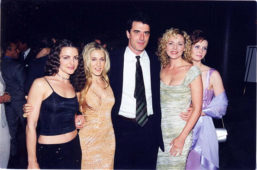 But they shouldn't get their hopes up for a SATC reunion any time soon. Kim has been very vocal about her reluctance to reprise the character, claiming she had been bullied by her former co-stars and hinting at a feud with the show's lead actress, Sarah Jessica Parker.
Speaking to the Mail Online previously, Kim said: "I went past the finish line playing Samantha Jones because I loved Sex and the City. It was a blessing in so many ways, but after the second movie I'd had enough."
When asked if there was any chance she'd appear in a third instalment of the SATC movie franchise, she quickly replied: "Never. It's a no from me".