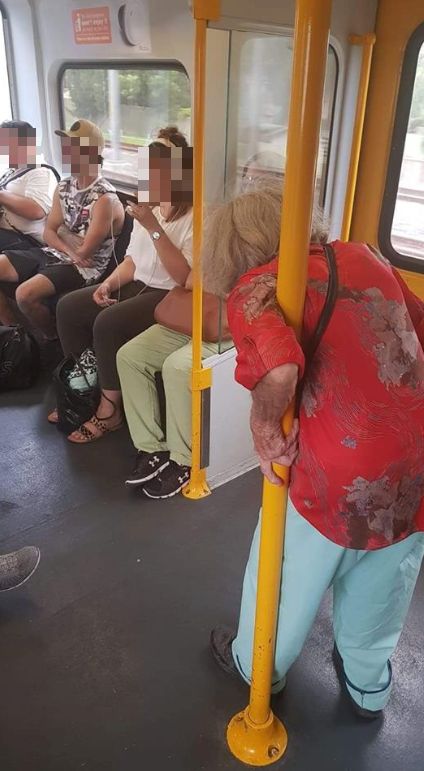 In a matter of days, the post has been shared over 23,000 times with thousands more debating over why the woman was left standing and whether or not anybody nearby offered her a seat.
A vast majority were shocked by the photograph, claiming they would always give up their seat for those that needed it most.
"I just want to yank off their head phones, tell them to look around and say that could be your mother one day," one disgruntled person commented.
Another added: "I'm 20 and I can't believe this. None of them would've heard if she'd asked politely for the seat – all three seated with their earphone in or headphones on! Where's the human connection?"
A third said: "No respect what so ever. Gone are the days where the younger generation look after their elders".
However, others took a different approach to the photograph, claiming there are two sides to every story and questioning if the person who took the photo didn't lend a helping hand.
Some even brought up the point that the young commuters may have offered the seat and the elderly woman could have denied.
"Not defending them but someone may have offered, but the elderly said, 'no it's okay, I'm getting off soon or at the next stop. I offer all the time and on a few occasions this has happened to me, we're they'd be polite and say, 'thanks but no thanks'," one person wrote.
"And who took the photo instead of saying something?" a second questioned.
Another said: "So quick to judge, but no one knows the story behind the picture. A whole train full of people and not one person offered a seat. Unlikely."
In a statement to the Mail Online, Sydney Trains said: "Sydney Trains encourages all of its passengers to observe appropriate transport etiquette including respecting elderly, disabled or pregnant customers by offering up their seats."
What are your thoughts on this photograph? Have you ever seen something like this happen? Do you think young people have lost respect for their elders?