Steve's beloved wife Terri then re-tweeted 60 Minutes' post with a beautiful message, which read: "They say you should live each day to the fullest. Steve actually did. I miss him every day, and I am so proud to see his mission continue."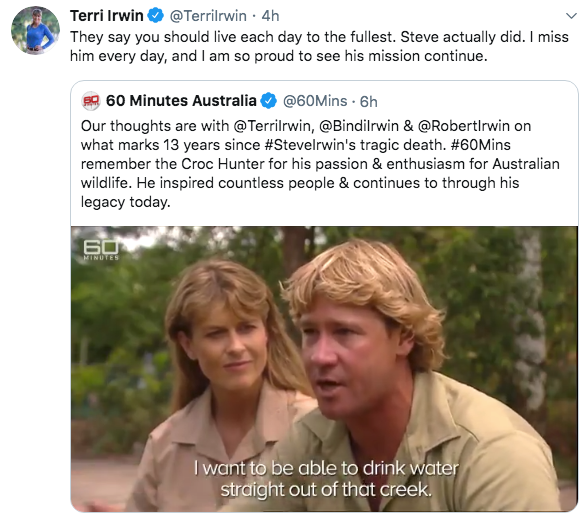 He's remembered as one of Australia's most popular TV presenters and animal 'whisperers', but to Bindi, he was primarily a loving father and mentor. Earlier in the day, the recently engaged 21-year-old shared a touching quote from fictional character Winnie-the-Pooh to social media. It read: "If there ever comes a day when we can't be together, keep me in your heart, I'll stay there forever."
Australia Zoo, a family business which Steve and Terri ran together, also honoured the late wildlife warrior with a sweet image of Steve posing alongside his beautiful family Terri, Bindi and Robert. "Father, husband, Wildlife Warrior," the image caption read.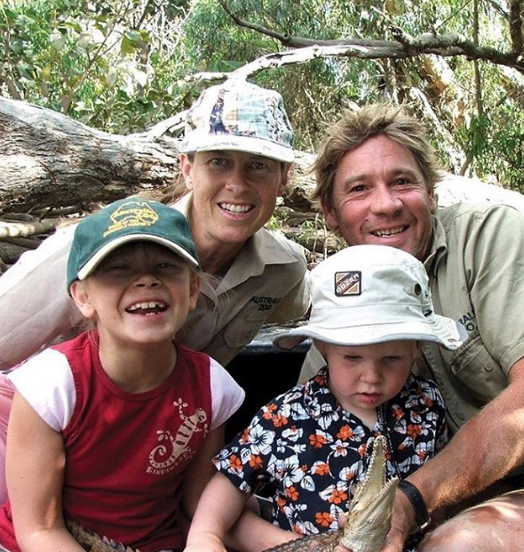 Many fans have also paid tribute to Steve on social media, with many remembering him as a "hero" and a "bloody good bloke". "He is irreplaceable. My absolute hero. You are missed Steve," one person wrote. Another added: "One of, if not, the saddest day in Australia when we heard the news of Steve's death… what a legend, hero, father, husband and a bloody good bloke… RIP Steve. We all miss you mate."
While a third wrote: "His death is still unreal to all of us as I am sure it is to you. While I can't know your pain, know that every time I see Bindi or Robert on the TV, a smile is brought to my face because Steve is smiling on down! He is so missed!"
It comes a few days after Bindi uploaded a throwback video to Instagram for Father's Day. The 21-year-old wrote a touching message to accompany the short clip, encouraging fans to "remember that love lasts forever".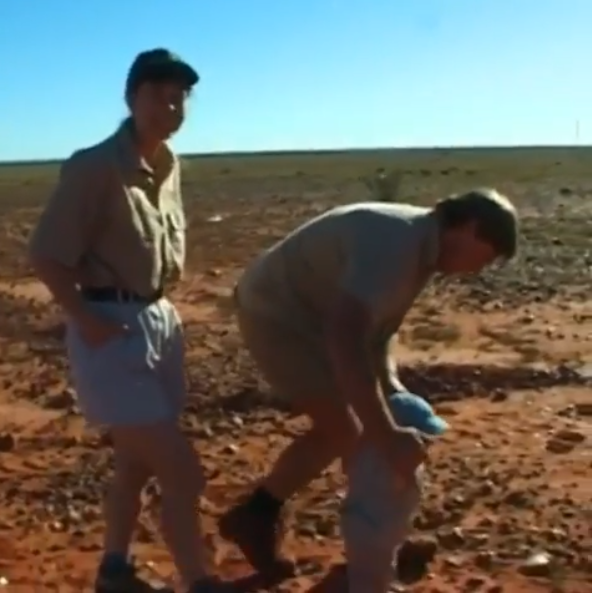 "It's Father's Day here in Australia," she captioned the post. "Reflecting on these wonderful moments. Hug the people in your life who bring light to your heart and always remember that love lasts forever."
At the time, many fans were quick to comment, with one writing: "Awwww this is the sweetest! Your father's love and light and passion shine so brightly through you!" Another added: "Your dad was like our long lost uncle lol I'm sure you've heard this a million times but he will always have a special place in our hearts whether we knew him or not. Growing up he was apart of our lives daily."