The 86-year-old was a vision of elegance at the event as she wore a floor-length navy blue gown that featured a crystal-lined square neckline and sheer bell sleeves.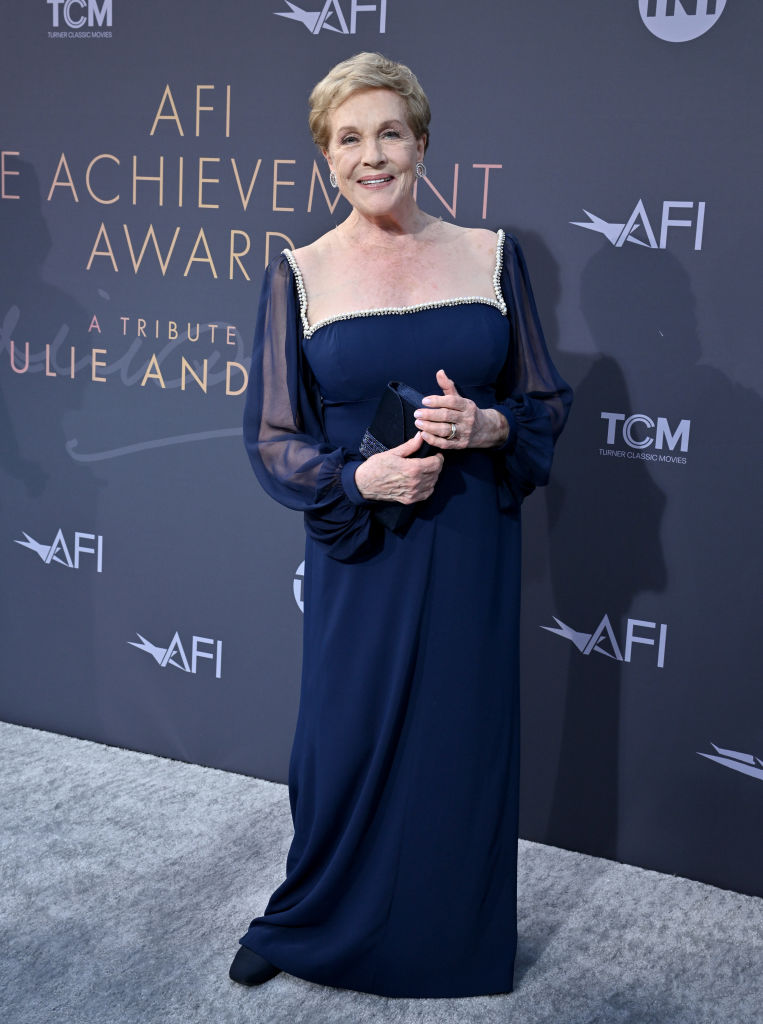 For accessories, Andrews wore equally dazzling diamond earrings that featured an intricate swirling design.
For make-up, the actress wore a nude lip and light brown eyeshadow to pull the whole look together.
It was first revealed that the Mary Poppins alum would be given the Achievement Award back in 2019 but had been postponed twice due to the Covid-19 pandemic.
"I'm enormously honoured that AFI chose me," the actress told Los Angeles Times.
"It is a little bit stunning. It makes me hugely aware that there was a large volume of work. When you're in it, you're so busy doing the work that you don't take stock of what you've done.
"And when someone else does, you marvel: 'Wow, that's a lot."
During her acceptance speech, Andrews remarked how the evening gave her "great clarity on how many people are involved with making movies".
"What a huge collaborative effort it takes to bring film to the screen. My husband Blake [Edwards] never liked when people referred to filmmaking as the business or an industry. He insisted that film was an art form and should always be called that. And I know that is exactly the way the AFI feels also," Andrews said.
The evening was a memorable one, not only was Andrews awarded with the "highest honour in American cinema," but the night also marked the first time the cast of The Sound of Music had performed together in over 60 years.
But sadly, not all of the film's family members were present for Andrews' big night. Charmian Carr, who had the role of Liesl, died in 2016 at the age of 73 and Heather Menzies, who played Louisa, passed away the year after aged 68. Christopher Plummer, who played Captain Georg von Trapp, died in 2021, aged 91.
Andrews's performance as Maria von Trapp, the feisty nun turned governess to seven von Trapp children, won the hearts of millions around the world, even earning her an Oscar for her performance.
57 years on and the musical still remains a fan favourite, with Andrews admitting she was surprised by the audience's response to the film and that it has "stayed in people's consciousness all this time".
"It made a big, big dent in people's psyche," she said.