https://www.instagram.com/p/B-c0P0yJXvM/
She also said the sunflower lace, which was used for the delicate sleeves and covered the bodice of her "special" dress, reminded her of her dad and the times they stopped to take in the beauty of sunflower fields whilst out driving or collaborating on projects together.
Several photos were shared by the US magazine, including one which shows the newly-married couple holding a huge python around their necks, in a sweet nod to their dedication to wildlife and conservation. Another photo shared on social media by the outlet shows Bindi lighting a candle in memory of Steve, with a photograph of the Aussie icon visible.
While another photo shows the star holding her sweet puppy Piggy, as she poses in the giraffe enclosure at Australia Zoo.
Fans gushed over the photographs, as they wished Bindi and Chandler the best for their married life together. One person wrote: "I'm so proud of her congratulations her dad would've been proud."
Another said: "I have tears in my eyes!! I feel like I watched her grow up, I guess we all have to be honest!!! Congratulations sweetheart!!!!" While another wrote: " I love the beautiful touch of having your Dad's photo looking on toward you. So sweet. I know he's always watching you!"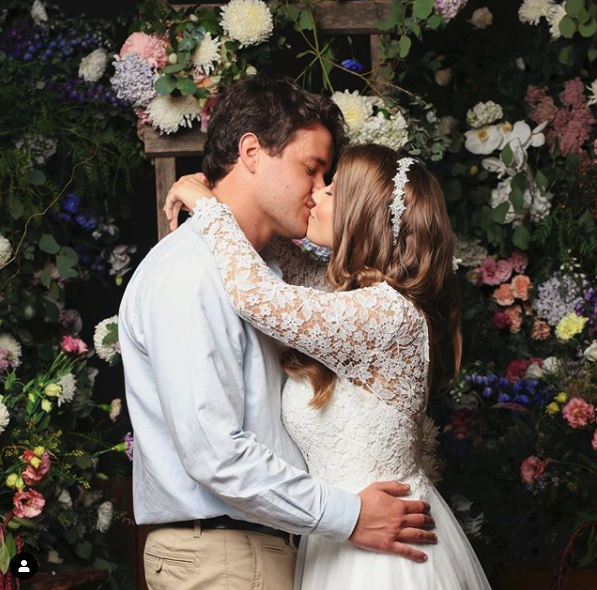 The couple were forced to bring their wedding – which had originally been planned for April – forward due to the ongoing coronavirus outbreak, and Bindi and Chandler opted to have no guests present, except Bindi's mother and brother, in line with strict government guidelines intended to stem the spread of the virus.
Speaking about their decision to get married in a secret ceremony, Bindi wrote on Instagram: "We held a small ceremony and I married my best friend. There are no words to describe the amount of love and light in my heart right now. We've planned this beautiful day for nearly a year and had to change everything, as we didn't have guests at our wedding.
"This was a very difficult decision but important to keep everyone safe. We wish all of our friends and family could have been there with us, however it's lovely that we will be able to share photos and videos. Right now we're encouraging the world to hold onto hope and love, which will carry us forward during this profound time in history."