"This was a very difficult decision but important to keep everyone safe. We wish all of our friends and family could have been there with us, however it's lovely that we will be able to share photos and videos. Right now we're encouraging the world to hold onto hope and love, which will carry us forward during this profound time in history."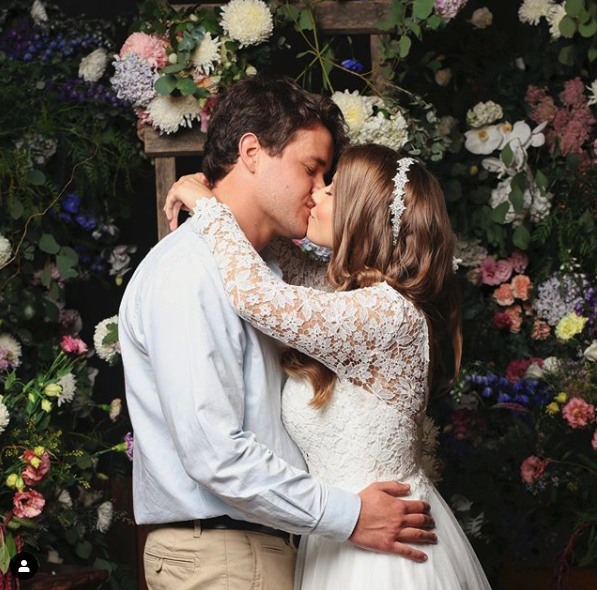 The couple had always planned to say 'I do' at Australia Zoo on Queensland's Sunshine Coast, where American native Chandler also popped the question last year on Bindi's 21st birthday, however they were forced to bring their nuptials forward due to ever-increasing restrictions around social gatherings.
Bindi and Chandler decided against flouting the rules though, as it seems the only guests present to witness the special moment were Bindi's mother and brother, with Robert also walking his older sister down the aisle.
The photograph shows Bindi wearing a stunning bridal gown which features delicate lace sleeves and a flowing tulle skirt. The wildlife warrior, who revealed her mum Terri Irwin helped her get ready for the momentous occasion, then added a touch of sparkle with a jewelled headband.
https://www.instagram.com/p/B0S9VFRBngZ/
She went on to reveal the special roles that her family played in the day, including how they honoured the bride's late father Steve Irwin.
"Today we celebrated life and revelled in every beautiful moment we shared together in our Australia Zoo gardens," she added. "Mum helped me get ready, Robert walked me down the aisle, Chandler became my husband and together we lit a candle in Dad's memory. We shared tears and smiles and love. Thankfully, since we all live at Australia Zoo as a family, we could be there for each other. To everyone reading this – stay safe, social distance and remember LOVE WINS!"
Robert, who most likely acted as wedding photographer, also shared a sweet tribute to Bindi and said that their father, who died in 2006, was with them.
The 16-year-old wrote: "Words cannot describe how happy and proud I am that today you started your married life and celebrated love during a difficult time for our world."