Meanwhile, their fellow Channel 10 star Carrie Bickmore didn't hold back this year as she treated her kids by transforming into Frozen character Elsa – and she looked amazing. While her eldest son Oliver dressed as the Grim Reaper, her husband Chris Walker became an Egyptian Pharaoh.
And completing the family snap were her two youngest, with the couple's daughter Evie looking adorable as a witch and their baby Adelaide dressing as a pumpkin. She wrote on Instagram: "The Motley Crew… Side note: some of the costumes I saw scared the bejesus out of me. Whatever ever happened to people dressed as pumpkins! The lawn mowing zombie is gonna be in my nightmares for days !"
https://www.instagram.com/p/B4Ry_c4no3n/
Elsewhere, Hollywood great Nicole Kidman looked stunning as she combined a touch of Angelina Jolie's Maleficent with classic spooky queens for her own outfit. Wearing a huge feather crown-style hat, the actress posed in all black and held her finger up to her mouth for a seductive pose.
Opting for a vintage-style look, Nicole wore a black velvet-look jacket with frilled cuff sleeves and added latex gloves to complete the sultry look. She captioned the photo: "All Hallows' Eve."
https://www.instagram.com/p/B4SXHfiJaWd/
Joining in the fun was Shane Warne's ex Liz Hurley who went for a classic scary nurse outfit this year. The 54-year-old model wore a tiny white outfit complete with a red cross on the chest, which she coupled with a matching nurse's hat and even an eye patch.
The star looked unrecognisable with a long blonde wig and posed with her arm up in the air as she appeared to show off her best dance moves. Captioning the photo on Instagram, she wrote: "Happy Halloween," alongside a series of kissing emojis.
https://www.instagram.com/p/B4TKfZfFdXv/
And former Studio 10 star Jessica Rowe ensured she thoroughly embarrassed her kids this year as she hit the school run in some giant ears ahead of dressing up for the evening. While she kept her frock under wraps on the trip, she looked to have embraced the modern elf look perfectly as she coupled the ears with some love heart sunglasses.
https://www.instagram.com/p/B4RMpNHDIzy/
While Aussies are so far leading the way for 2019, US stars have been known to win the dressing up contest in the past. In fact, last year saw the queen of Halloween, Bette Midler, host the annual Hulaween Gala in Manhattan, where she went full-on futuristic, donning a metallic silver mini-dress, grey jewel-encrusted tights and a pair of glitter heels.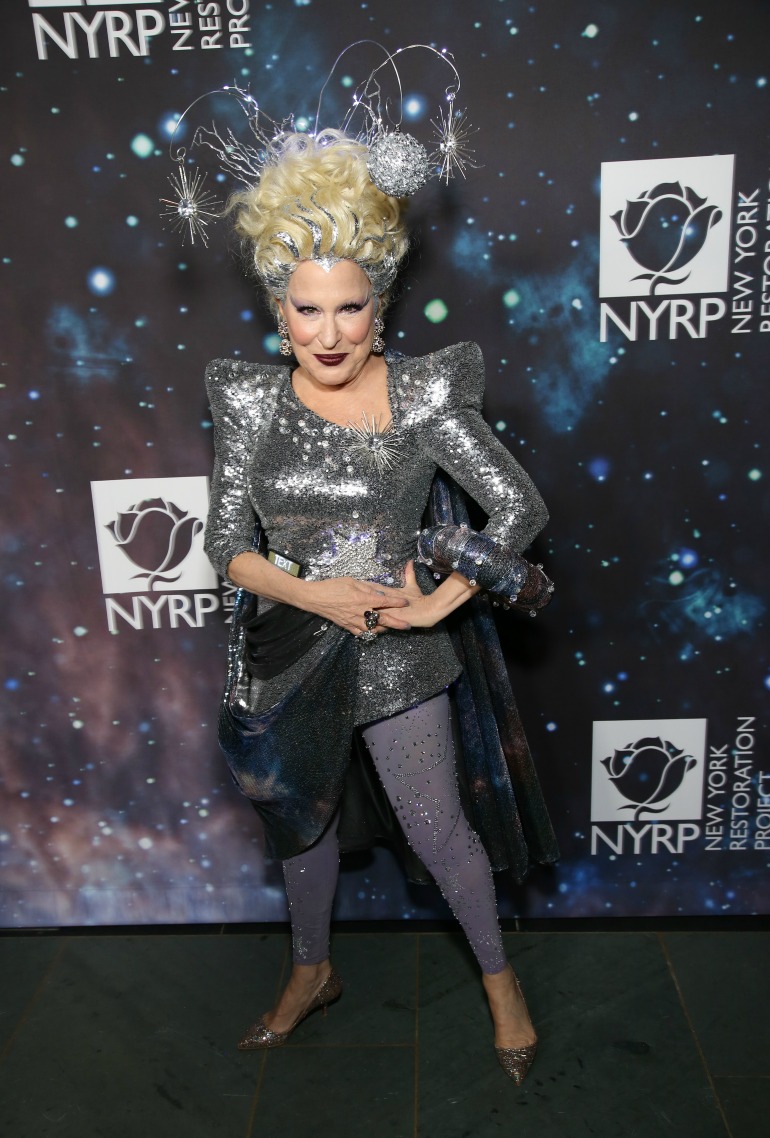 Bette also sported a drastically different hair-do, which featured silver streaks running through her locks and galactic-inspired ornaments dangling from her head. The charity bash benefits the New York Restoration Project (NYRP), which Bette founded in 1995. The NYRP has spent the last three decades transforming open spaces in New York's under-resourced communities to be safer, healthier and happier.