These frittata muffins are great as a snack in-between meals (ditch that bag of crisps!). You could have 2 – 3 with a little side salad for a light lunch or take them to the next BBQ or casual get together with friends and family. Use different veggies and herbs to create new flavours – it's hard to go wrong with this recipe!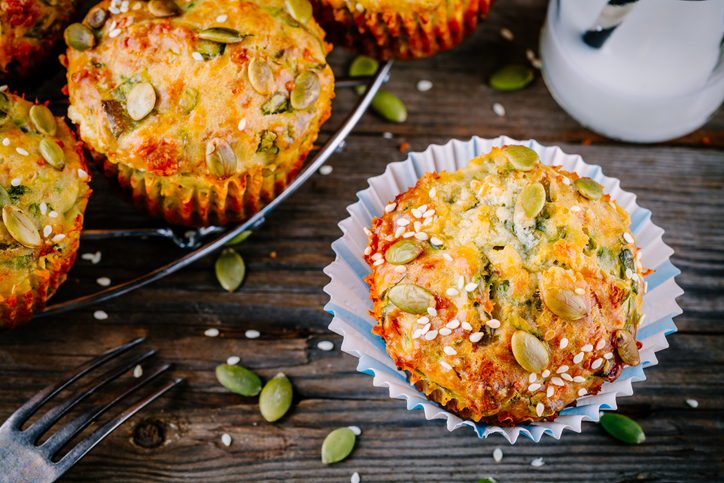 Serves- 6
Ingredients
Extra virgin olive oil
250g ricotta
6 eggs
500 g pumpkin
100g feta
¼ teaspoon turmeric
Salt & pepper to taste
¼ cup pumpkin seeds
9 cherry tomatoes
½ cup parsley
Preparation
Preheat oven to 180C.
Cut pumpkin into small pieces (1-2 cm squares), place on a baking tray and drizzle with olive oil. Roast for 20 minutes or until tender.
In the meantime, mix ricotta, eggs, Parmesan, turmeric, salt and pepper in a bowl.
Coat muffin tray with olive oil using a brush (or paper towel if you don't have a brush).
Remove pumpkin from oven and distribute evenly to muffin trays (don't press down).
Spoon egg mixture on top. Sprinkle with pumpkin seeds. Place cherry tomatoes on top (prick them at the top with a knife or fork beforehand).
Bake for 30 minutes or until golden. Remove from oven, cool down slightly and decorate with a little parsley.
Variations
This recipe is great for using up leftover veggies and herbs. Try with mushrooms and zucchini for example. You could also add a little bacon, onion or garlic.