Metallic is one of the biggest trends in a long time to jump from the catwalk to our wardrobe.
We've seen it in fabrics, from red-carpet gowns to casual street wear, and even in swimwear, and now our feet are getting the precious-metals treatment.
Luckily, this is one trend that's easy to translate into your everyday wear.
Silver and gold are already go-to colours for many women, but this season there are even more flattering metallic hues to choose from, with rose-gold and pewter shades stepping into the spotlight.
The new range of Homyped metallics offer the same high standard of comfort and health-care benefits expected from all its shoes, so check out our top tips for introducing metallic into your shoe-drobe, then you're ready to shine, whether you're pounding the pavements or primping for a party.
Dressed Up or Down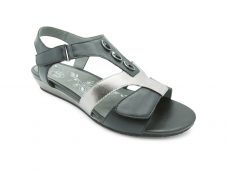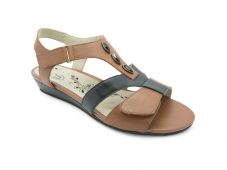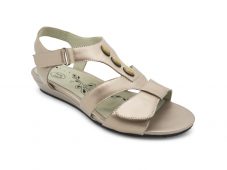 The Karmen style in black and platinum, tan and black and stunning rose gold. RRP $129.95
From casual to dressy, the Karmen is your go-to sandal, available in three colour options: black with a platinum contrast, tan and black, or a stunning rose-gold. With only a slight wedge heel, and a touch of bling, the sandals can we worn with any outfit, from casual resort wear while relaxing by the beach to a sophisticated dress when dining out in the evening. Easy entry and adjustable fastenings at the side and front of the shoe make the Karmen quick to slip on and go.
There's nothing like slipping on a pair of casual shoes for a walk and knowing your feet will stay comfortable. The Jacinta style, though, looks smart, while still having the benefit of a custom-designed footbed that provides support and stability. The Jacinta is part of the Relax Homyped range, and is also available in black and dove-grey, with contrasting textures. The go-with-everything colours make them perfect to take on holiday. Wear them with sportswear, casual and resort wear.
Stylishly Warm
Boots are made for walking, as the song lyrics go, but they're also made for wearing with practically any outfit, and are an essential for the cooler (or wetter) months. Homyped has added three new leather boots – Jess, Gerty and Gracie – to its collection, all in traditional black or tan. Each style has a different heel height and textural interest, as well as being 'orthotic-friendly'.