While a fabric sofa can be a great addition to one's living room it can be a pain to clean — yes, we're talking about those pesky balls of lint that seem almost impossible to get rid of, making you think it's time for an upgrade. Well, instead of heading to the shops, we've rounded up three ways to get rid of lint from fabric furniture — you'll be surprised at how easy it really is! Oh, and you won't need to go out and buy a lint remover either!
Electric shaver
Turns out you can easily restore your fabric couch with an electric shaver. One savvy mum posted in the Facebook group Mums Who Clean revealing she did just that, and it worked!
"First-time poster here, but I found this way too genius not to share," she wrote, alongside a video of her using an electric shaver on her couch at home. "Not sure if this has already been posted before, but I just found the best way to remove those crappy lint balls from my couch."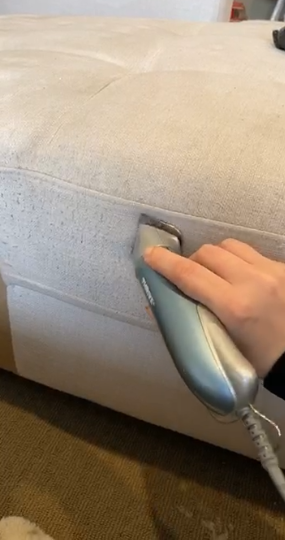 The group's followers were equally impressed, with one writing: "That is actually the best." Another added: "What a great idea." While a third wrote: "This is amazing. Thanks so much for sharing."
Pumice stone
Pumice stones can do more than just remove dead skin from your feet, they can also get rid of lint from furniture! The rough texture of the pumice stone supposedly works a treat when it comes to picking up lint balls. To get started, simply run the pumice stone over the affected area. Repeat until all the lint is gone. Just be sure to clean your pumice stone before you start! For a better result, some people recommend going over the fabric with a lint roller first to loosen the pilling.
Dishwashing gloves
There's a good chance you already have a pair of rubber dishwashing gloves lying around at home! There's no real trick to this one — to get started, simply pop a glove on one hand and brush in one direction over the fabric. The friction between the glove and fabric creates static energy that causes debris like pesky balls of lint to stick to the rubber glove. The best part is, this trick apparently works better than lint rollers, and it even works for pet hair.