With a Queensland Seniors card, at the time of writing you can access a whole range of Government discounts like
50% concessions on urban bus, rail and ferry services,
free dental treatment,
electricity rebates,
discounts on fire services levy,
free access to home assistance through Home Assist Secure,
subsidy of medical aids and equipment,
50% reduction in motor vehicle registration,
concessions for entry to national parks,
concessions at Government Art Galleries and Museums,
50% discounts on long distance rail services via Traveltrain, (25% to interstate seniors)
rebates on reticulated natural gas, free basic spectacles and concessions to some State Library events.
There is no doubt discounts like these add up fast and save you plenty of money.
What many forget is that a awful lot of private businesses are keen to support Seniors too.   There are thousands of businesses in every state in fact selling almost everything you might want to buy.
We took a look around the Queensland site and were incredibly impressed.
The list of stores and outlets offering discounts in Queensland alone are enormous and include everything from furniture, homewares and electrical to food, automotive services, wine, locksmiths, pest controllers, pool service providers, sunglasses, agriculture, hair & beauty, clothing and education right through to appliance repairers.  It rather amazes me just how much is available at a discount using your seniors card, and many discounts are at branded stores you would recognise.
All of the state government sites also run a Senior Shopper, a free phone service that will help you find the best price on an item you have decided to buy.  With Senior Shopper you can get direct access to the discounts available for Seniors on electrical goods, travel, motor vehicles, computers, mowers, power tools, white goods, sports gear, fishing tackle, pool services, cameras and much much more. For more information on Queensland's Senior Shopper services visit the website at http://www.qld.gov.au/seniors/legal-finance-concessions/senior-shopper/ or call them on 1300 366 265.
Look out for this sign… and make your new catchcry "Do you offer a Senior's Discount?"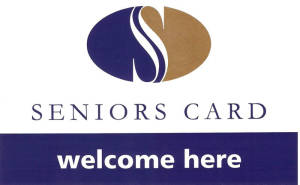 I wish I could write all the discounts here, but there is just so many, all I can do is show you where to go and hope you find your way to years and years of savings. If you have found some great discounts yourself, I am SURE everyone here would love to hear about them.  So please, put them in the comments field below.
Happy Easter. Let's get saving.