Proving a huge support for his wife, Max has stood by her throughout every scan, injection and hospital appointment, and showing he hasn't lost his sense of humour through their turmoil, he joked to the show: "My age doesn't help, it would be advantageous if I was probably two years younger."
Cameras followed Sam, who married her husband in an elaborate ceremony in September 2015, through every stage of her most recent attempt, including initial scans, the egg retrieval and the embryo transfer. Meanwhile, allowing viewers behind the camera too, Sam also created home videos as she injected herself and opened up on her wish to be a mum.
Tragically, the couple lost unborn twins a year ago – just 12 weeks into the pregnancy. They announced the sad news at the time on their blog, Team Delmege, and Sam wrote: "My heart is still hurting so bad, my mind flashes with bad thoughts and nightmares and my body is still trying to adjust back to a normal body with no babies inside."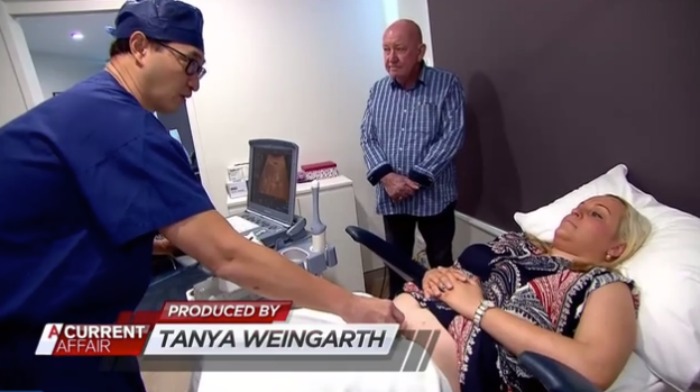 Remembering the awful time, Sam added to the show: "I was pretty distraught, I was hyperventilating, I was devastated… I was sent from the scan place to the private hospital where I had to then have an operation that night."
Despite spending thousands on IVF already, the couple don't plan to give up any time soon, and even if their latest attempt is unsuccessful, they'll try again.
"At the moment I haven't really thought about when I will give up, as long as I know there is a chance I will keep going," Sam insisted.
Asked why she chose to publicise every moment of her journey, both through the TV show and their blog, Sam explained on the show: "Just to show people out there that IVF is hard, it's not easy, people just don't really understand unless you have been through it."
Did you, or anyone you know, undergo IVF to have children? Do you and your partner have an age gap between you too?