They left the building hand in hand after the official proceedings and stopped to smile and wave to the waiting press outside Spencer House where the ceremony was held.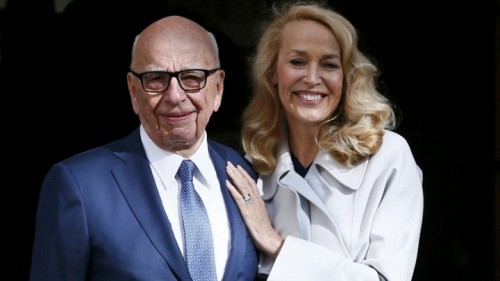 Rupert sent out a message on social media saying: "No more tweets for ten days or ever! Feel like the luckiest AND happiest man in world."
The couple have enjoyed a whirlwind romance over the past five months, which saw Rupert present Jerry with a $4.5 million diamond engagement ring.
While Rupert is seemingly an expert at getting married now, this is Jerry's first wedding having never made it official with Mick Jagger.
Jerry and Mick held an unofficial ceremony in Bali in 1990 to mark their relationship but never formally married.
The couple has 10 children between them and all will be in attendance at the wedding later today.
They are believed to have spared no expense for the occasion with Jerry reportedly wearing a custom-made dress by famed British designer Vivian Westwood.
Do you wish the couple good luck in the next phase of their life together? How long have you been married for?