The musician married language teacher Marjorie in 1975 and they have gone on to work together, with her writing many compositions over the years. They have two sons, Marc and Pierre, and their beloved grandchildren together.
"Primarily, I'm a spoiling grandfather!" Andre joked. "I don't teach them music, they have to make their own decisions and be happy in everything they do. However, I do hope that they enjoy musical education and, above all, the love for music itself.
"It is quite important to let children get acquainted with music; their sense of harmony and beauty will be awakened, while listening to music or playing an instrument."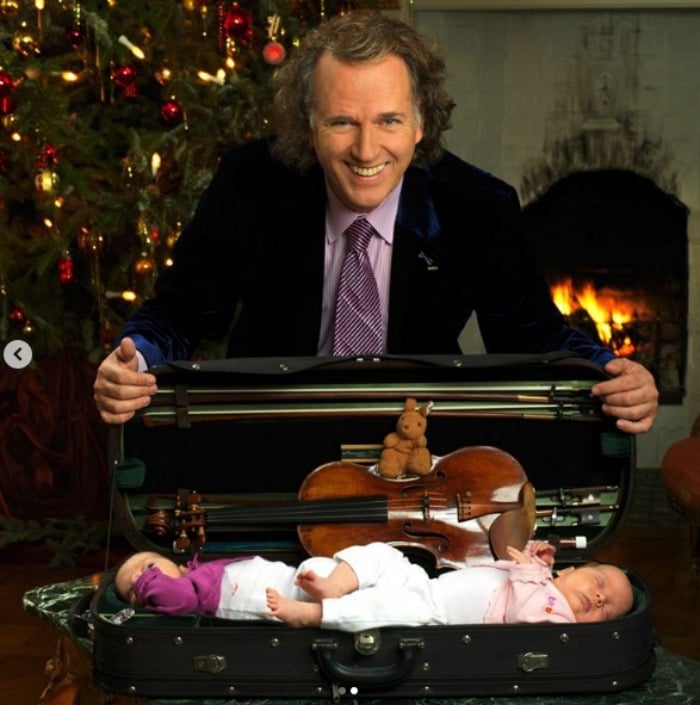 Read more: Defying tradition: Andre Rieu's unique inheritance plan for sons and grandkids
Clearly besotted with all of his grandchildren, Andre recently shared a throwback photo of him with his son Pierre's twins Lieke and Linde lying together inside his violin case on Instagram. He captioned the photo: "#TBT From small beginnings come great things…"
Of course, like most famous musicians, Andre loves nothing more than the time he does get to spend at home. And while he spends his days touring with his Johann Strauss Orchestra playing classical hits, he loves nothing more than listening to his grandchildren's voices when he's away from the stage.
"Maybe the biggest surprise is my preference for silence in my spare time," he admitted. "Since I am surrounded by music during a great part of the year, it's nice to enjoy silence at home.
"All right, a few exceptions to this: I am a happy listener when my grandchildren have learned a new song in school, the humming and singing of my tropical birds in my greenhouse is quite relaxing too and, may be around Christmas days, the chiming of the church clocks in the distance."
Andre Rieu is touring Australia throughout November, 2018. You can see his full schedule and buy tickets on his official website here.
How do you keep a close bond with your grandchildren?