Why journal writing was good for me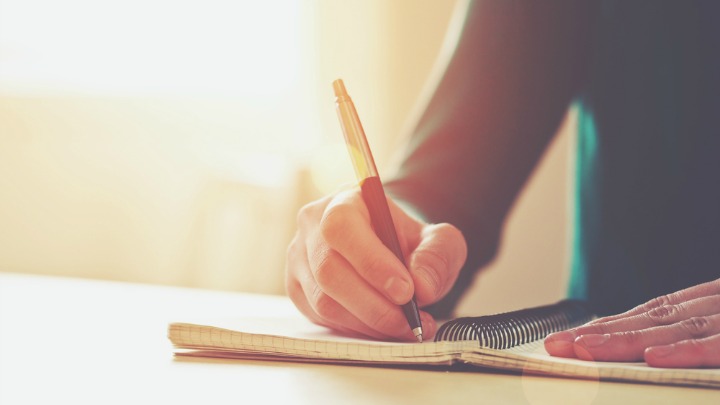 More and more we hear about the importance of mindfulness and meditation as a means to ensuring our mental health. While there is a lot of talk about how the practise is revolutionary, Robyn was never really sure how to do it or if what she was doing was right.
"I loved to write, so I started journalling as a way of bringing the mindfulness concept down to earth, she says.
It turns out Robyn is on to something, with researcher Dr James Pennebaker revealing that writing has a tremendous healing power that many of us are unaware of.
Robyn says she started writing — and drawing — about the emotional and occasionally traumatic experiences she was having and says it better allowed her to accept things of the past, release the negative thoughts she had been exposed to, and reframe her mindset.
"It has become a cathartic practise for me to release the emotional baggage of my day," Robyn says.
Ad. Article continues below.
Another positive to come out of her journaling is that she can more easily recount the good things instead of taking them for granted.
"My life is often busy and hectic and I found I was overlooking the positives that were happening, which meant I wasn't celebrating those special moments. By keeping a journal I am now able to write about things I am grateful for and in turn I have seen my sleep improve and I am less anxious about life," Robyn says.
Poet and activist Kelly Harris once said, "I truly believe we don't know how we feel until we write it down."
There might not have been much scientific backing of her statement, but researchers have since discovered that when we write out various options we explore alternatives that we might not have considered.
Further, we are able to make more informed, less biased decisions and those decision are made with confidence.
Ad. Article continues below.
Robyn says another of the benefits she has found since she started journaling is that it has helped her stay on task when it comes to her goals and dreams.
"I started thinking about the things I wanted to achieve and because I was writing about them I was able to bring them to fruition," she says, highlighting her overseas travels, starting a new job and buying a new house.
"I've learnt a lot about myself through my writing."
Do you keep a journal? What other creative avenues help you unearth what certain events and situations really mean to you?