Melania and Ivana Trump's public feud over first place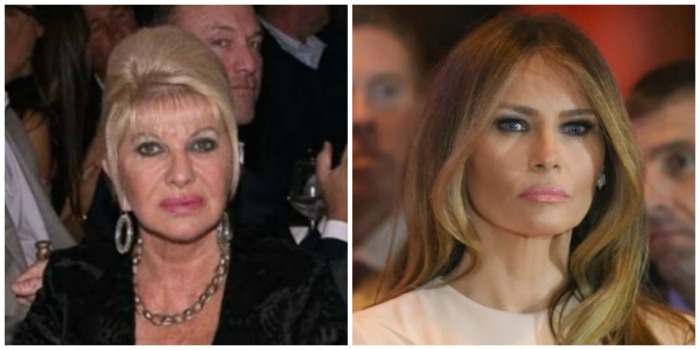 Who is the real first lady?
United States President Donald Trump was married to Ivana before Melania, that we know.  Sure, she was the first wife, from 1977 to 1992 but does that make her the first lady?
According to Ivana it does. She called herself the first lady on an interview on Good Morning America, while promoting her memoir 'Raising Trump'.
Ivana has also made it clear she's still in close contact with the president, but doesn't call direct to the White House, to prevent issues with him and Melania, who married Trump in 2005.
'Melania is there and I don't want to cause any kind of jealousy or anything like that because I'm the first Trump wife. I'm the first lady, OK?' she said, reported the Daily Mail. 
Ad. Article continues below.
It's an opinion Melania clearly doesn't agree with.
There's even been an official statement released through her office, titled as 'Statement from Stephanie Grisham, spokeswoman for the First Lady'. 
"Mrs. Trump has made the White House a home for Barron and The President," the statement reads. "She loves living in Washington, DC and is honored by her role as First Lady of the United States. She plans to use her title and role to help children, not sell books. 
"'There is clearly no substance to this statement from an ex. Unfortunately only attention seeking and self-serving noise."
It's certainly caused a stir on social media, with people calling it a catfight.
Ad. Article continues below.
Melania Trump's office rips "attention seeking" Ivana Trump in a statement because we live in a reality show now pic.twitter.com/h38jDa62Qz

— Benjy Sarlin (@BenjySarlin) October 9, 2017
Andy Cohen: Even I'm speechless over Melania and Ivana Trump spat https://t.co/e2AtJZSnZO pic.twitter.com/Mu4ZkINbHi

— The Hill (@thehill) October 9, 2017
I would definitely watch Ivana and Melania Trump's season of @FeudFX https://t.co/SWGeGN3OOe

— Nick Hautman (@nickhautman) October 9, 2017
Ad. Article continues below.
#UFC is there a #catfight on the pipeline? Melania Trump vs Ivana Trump

— JClaud (@MezanmiO) October 9, 2017
At least Ivana didn't call Melania a showgirl. She saved that honour for the second wife, Marla Maples, who Trump was married to from 1993 to 1999. 'I don't talk about her. She's a showgirl. Never achieve anything in her life,' Ivana said. 
Does a first wife have rights when it comes to an ex-husbands career? Does Ivana have a right to claim she's the first lady?
Ad. Article continues below.