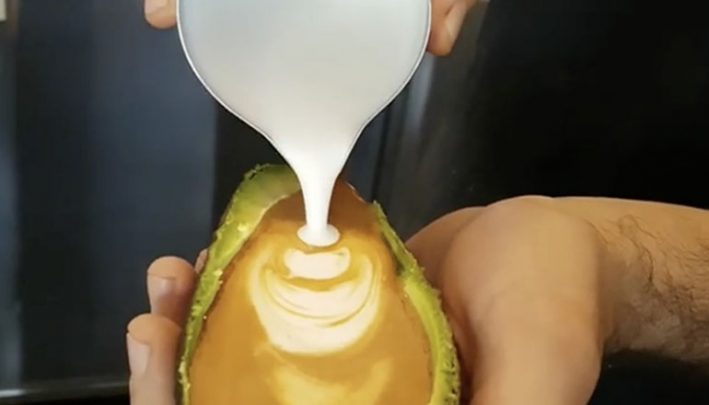 "What has the world come to?" Well, in keeping you up to date on that question we felt obliged to comment on today's breaking news about "avolattes" in Melbourne, apparently the cause of great housing stress.
We simply had to have a giggle with you after this picture and series of tweets and instagram posts took off today about people ordering "Avolattes". In what is surely got to be a joke, the avocado latte has been photographed at the Truman Cafe in Melbourne.
And it's being seen as the ultimate millennial jibe at home ownership, in their "live for the now" lifestyle of lattes and brunching. We take a look at some of the hysterical tweets and posts about the happening and the responses that came afterwards. Then we invite you to leave yours.
"Literally someone call NATO," one person said.
I just drank a latte out of an avocado and it changed my DNA I'm caucasian now. Don't talk to me unless you own at least 7 turtlenecks pic.twitter.com/DqnG0ExpWP

— The Headass Horseman (@dulapalooza) May 18, 2017
And the comments are equally as entertaining…
@BuzzFeedFood @ForgleWitts I'm a generally peaceful person, but seeing someone ruin an avocado and latte in one fell swoop makes me want to punch kittens in the face!

— Steve Trowbridge (@SteveIsDamaged) May 20, 2017
@BuzzFeedFood @ForgleWitts I'm a generally peaceful person, but seeing someone ruin an avocado and latte in one fell swoop makes me want to punch kittens in the face!

— Steve Trowbridge (@SteveIsDamaged) May 20, 2017
@yashar @mschlapp Good way to ruin an avocado and a latte.

— Kimberly Recio (@KimberlyPR) May 19, 2017
Latte served in avocado 😝 @AgathaChocolats pic.twitter.com/aQ7zMAE3kx

— L (@iamlauren83) April 30, 2017
Comments