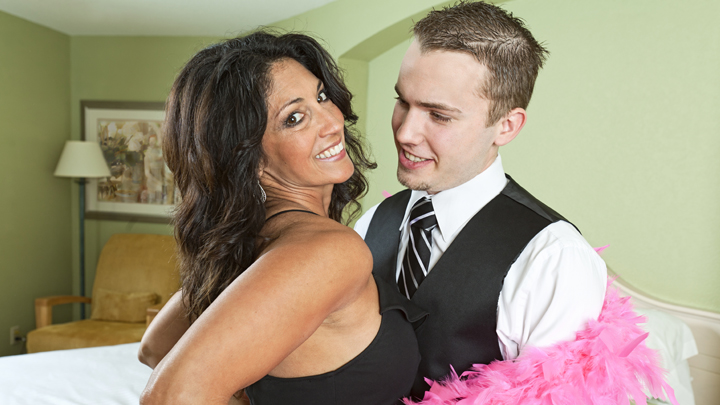 All my life, I'd been with older men. I never really thought about their age or how it affected our relationship, but one thing I know for sure is that I was never truly happy. I was married for 34 years but by the time we were 58, it was clear that both of us weren't in it for the right reasons. I loved the lifestyle that my husband could provide me but there was something lacking…the passion that had engulfed us years ago.
So there I was, single and 58. I was and still am an attractive woman – I take care of my appearance – but I didn't know how to flirt! I'd been married since I was 24 so I was never out on dates. I started by going on dating sites. I put in the age range from 50-65 and male, and was presented with men from all over my city. I liked a few of their pages and before long I was chatting to 10 men. I went on a few dates and while they were all lovely, none of them were what I was looking for….and I didn't even know what that was. I had lunches and dinners with business men, retirees, even a man in an open marriage. I just couldn't click with them…there was no spark.
I closed my computer and it wasn't until a couple of months later when I was having a wine with my girlfriend that we got onto the topic of men. She asked me if I'd met anyone and I said I had a few dates but nothing serious. She cheekily said, "Well maybe you could change the age range, just for a bit of fun?". We grabbed the computer and laughed as we looked through the scores of younger men on the web. One young man caught my eye – he was dark, tall and handsome…all the cliches you could think of. He was 33 and absolutely gorgeous. I couldn't help but stare as I scrolled through his photos. It took a few more shots of courage before I worked up enough to contact him via the chat feature.
Ad. Article continues below.
"Hi there!", I said. I didn't receive a response for about a day and the whole time I was worried about whether he had read it or if he'd seen me and thought I was a horrible old bag! I hadn't felt this rush of anxiety about a man before, least of all when I hadn't met him! Tim wrote back, "Hello, Kara – how are you?" and it all went from there. I couldn't bear the excitement before I went to meet him. It was a mix of fear and delight – he was 25 years younger than me. I had my girlfriend do my hair for me and choose a sexy outfit.
His eyes lit up when he saw me and he said, "You look stunning, Kara". I couldn't believe someone so attractive would compliment me. It was hard to look him in the eyes that first time we met, he was so nice to look at it almost felt as if I was speaking to a celebrity. He was just perfect – he had a great job as a CEO of a packaging company and loved to travel. He wasn't jaded from a life of mistakes, like my ex-husband, and he had a fresh outlook on life that really mesmerised me from our first meeting. We went on a couple of more dates and he finally kissed me. We had the most romantic and passionate night I've ever had in my life….he could run laps around any other man I'd been with! Why hadn't I tried younger guys sooner?!
We've now been together for 3 years and people still talk about us. It's not nice to see other people staring when we go to the shopping centre. He is the same age as my daughters but I've never considered it to be wrong. Some people have said that he has mummy issues or I'm a sick old woman. Some have said he'll run away when I'm 70 and he's 45, in the prime of his life while I'm withering away. I've heard it all but one thing I know is that I love Tim for who he is and not the number on his birth certificate. I don't think about the distant future and how it'll be when I'm 70 or whatever. I live day to day with the love of my life. Is that so wrong?
Have you had a relationship with someone much younger? Do you think it's wrong or each to their own? Tell us your thoughts about this writer's choice here.