End of an era for Paddington Bear, after creator dies age 91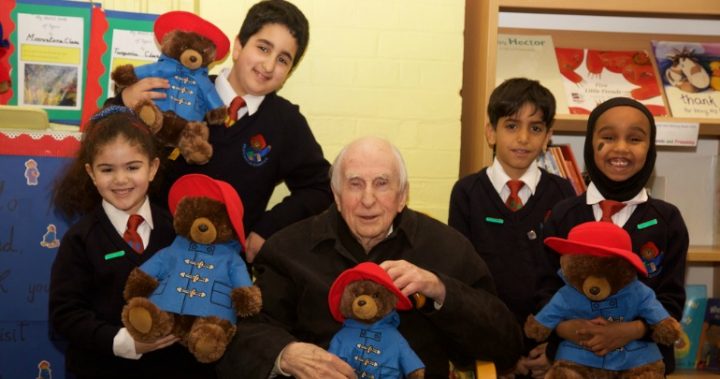 Michael Bond, the creator of the beloved children's character Paddington Bear, has died aged 91.
His creation, the loveable bear with a large hat and suitcase, has been a staple in many a child's lives for decades.
Paddington Bear was inspired by a teddy Bond saw on a shelf at a shop near Paddington Station in London. It was Christmas Eve in 1956, so he bought the bear as a gift for his wife. It only took ten days after that for Bond to write the first book.
The first book, titled A Bear Called Paddington, was published in 1958.
Ad. Article continues below.
Since then Paddington has been featured in a number of books, which have been translated into 30 languages.
Bond continued writing the series with the most recent one, Paddington's Finest Hour, published in April this year.
The first of the Paddington stuffed toys was created in 1972 by a design company, and former Top Gear presenter Jeremy Clarkson, as well as his sister, was the first child to ever have one. It was his parents, Shirley and Eddie Clarkson, who owned the business and they gave a prototype to the kids for Christmas.
In an interview with the Sunday Times, Bond once revealed he had considered suing the Clarksons for copyright infringement, but after meeting them they became friends and he gave them a licence instead. 
Ad. Article continues below.
Jeremy Clarkson commented on Twitter after hearing the news of Bond's death. "Very sad to hear Michael Bond has died. I knew him for 45 years and rarely met anyone kinder or more gentle," Clarkson wrote.
Paddington wearing gumboots came about because of these stuffed toys, to help them stand upright. Bond then included them in his stories. 
Ad. Article continues below.
Paddington also became a television star, making his first appearance in 1975, then going on to become a movie in 2007.
While there is a wide variety of Paddington Bear themed items available, from clothing to umbrellas, and of course Wellington Boots, Paddington was also in a television advertisement for Marmite in the UK and has featured on stamps and used in marketing for his favourite food, marmalade.
Bond died at home after a short illness.
A statement from publisher HarperCollins said: "It is with great sadness that we announce that Michael Bond, CBE, the creator of one of Britain's best-loved children's characters, Paddington, died at home yesterday (June 27) aged 91 following a short illness."
What is your first memory of Paddington Bear?