Here's why Aussies hate politicians, by a politician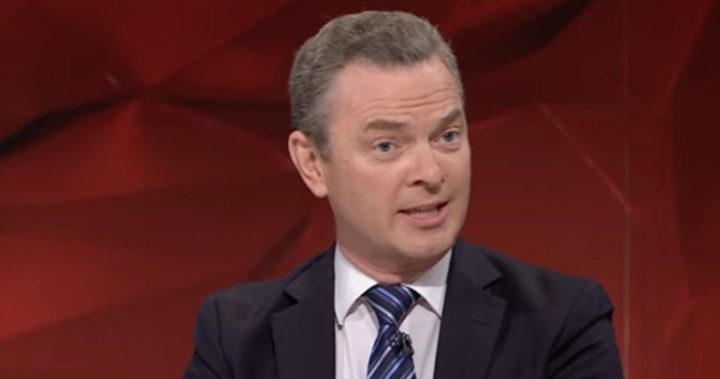 Turnbull government heavy-hitter Christopher Pyne says the public is fed up with politicians, and he thinks he knows why.
Speaking on the ABC's Q&A last night, the former defence minister said Aussie voters had endured a tumultuous time over the past ten years, with five changes of prime minister.
"I think it will take a long time for the public to trust government again as an institution that can solve their problems and meet their concerns … The days of putting together a three-point plan or five-point plan and going out and selling it and spending a lot of time with focus groups, whoever that might be – the public are over that," Pyne said on the show. 
"They want to know that governments are on their side, and doing the things they want them to do – jobs, national security, international security, and that's obviously what the Turnbull government is trying to do."
Unfortunately, his comments are in sharp contrast to the factional row that's enveloped his party since tapes were leaked to newspapers, in which Pyne said the government was gearing up to legalise same-sex marriage "sooner than everyone thinks".
Ad. Article continues below.
Speaking at an after-party event following the Federal Liberal Council gala dinner on Friday, the tapes recorded Pyne telling colleagues: "Friends, we are in the winner's circle but we have to deliver a couple of things and one of those we've got to deliver before too long is marriage equality in this country.
"And your friends in Canberra are working on that outcome… It might even be sooner than everyone thinks."
The recording, which MPs told The Australian appeared to have been made by one of Pyne's own Liberal colleagues , sparked fierce debate within the party yesterday, with some MPs reportedly hoping for a vote in parliament on the issue and others insisting that the government should stick to its promise of a public vote to decide on the issue.
The Australian reported today that party members feared that an intra-party fight on the issue would further destabilise the Turnbull government, which is on the back foot in opinion polls.
Tony Abbott's gay sister, who was at the after-party where Pyne was recorded, told ABC Radio she didn't believe there was a secret 'plot' to legalise same-sex marriage.
Ad. Article continues below.
"I didn't read it as any kind of indicator there's a plot being hatched," Christine Forster, a Liberal party councillor in Sydney, said yesterday. I think it was just an expression of enthusiasm [from Pyne]."
But Fairfax Media reported that Liberal MPs Trent Trent Zimmerman and Dean Smith were working on a private members' bill that they hoped would get same-sex marriage through parliament on a conscience vote.  Attorney-General George Brandis and Pyne were reportedly aware of the bill. 
Former prime minister Abbott, who came up with the same-sex marriage plebiscite plan that the Coalition took to the 2016 election, was not impressed with Pyne's comments and issued a frank warning against abandoning the popular vote.
"To dump the plebiscite, to do anything without a plebiscite, would be a breach of faith with the people," Abbott told 2GB yesterday.
Meanwhile, Prime Minister Malcolm Turnbull has insisted his government's policy to hold a plebiscite on same-sex marriage remained unchanged, despite Pyne's recorded comments.
Do you think Australian's are really fed up with politicians, or just the politics?