Blanche speaks out on sex life with Bob Hawke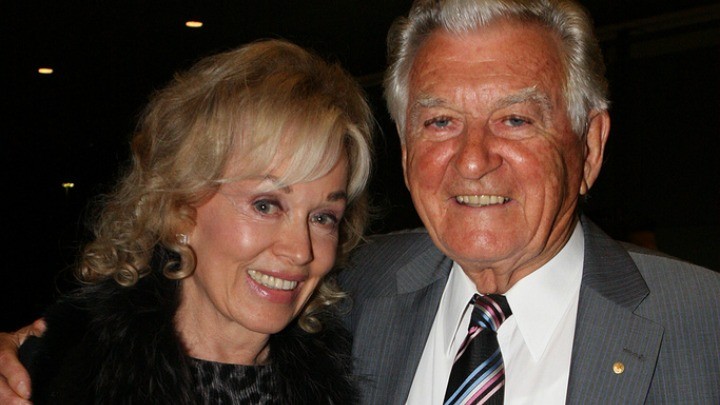 After 20 years of marriage, Bob Hawke and Blanche D'Alpuget are still going strong, and it all comes down to physical attraction.
Speaking to The Australian yesterday about politics and her new book, the third part of a quartet based on the life of Kind Henry, Blanche says "I think sexual attraction is very important – it is to me – but I've always liked sex. I think sexual attraction, honestly, if it's intense, really can stand the test of time," she says. "We're the living example of it".
Bob Hawke's one-time mistress, biographer and now wife, Blanche is an open book – within limits. In 2008, she wrote an essay entitled On Longing, a tribute to her love and muse, the man we all know as Bob, and in 2010, while promoting the biography she wrote about the former Prime Minister, and while she kept intimate details to herself, she was only too happy to talk about how love keeps them going.
"I think that's a really important thing," she told the Sydney Morning Herald at the time. "We would not go a single day without saying at least once, 'I love you'."
Ad. Article continues below.
And it's not just Blanche who'll tell anyone who's listening they are still physically attracted to each other. At the simultaneous launch of the couple's his'n'hers memoirs, Bob said, "It's impossible to describe the bonds we have, the physical love, the intellectual companionship, the joy we have in one another's company".
Bob and Blanche first met in 1970 and had an on-again, off-again affair while Bob was married to Hazel Hawke. Bob famously withdrew his marriage proposal to Blanche in 1978 saying, "Divorce could cost Labor three per cent".
The lovebirds were married in 1995.
Ad. Article continues below.
In her candid interview with The Australian, Blanche described leaders as irresistible. "The thing about politicians is by and large, they are very attractive human beings, whatever they physically look like. And Clive Palmer is an exception on all levels. But if they're not attractive, people won't vote for them".
She also says a relationship with Bob would have been "disastrous" for her had it occurred earlier. "I would have murdered him because of his drinking and his wildness and his larrikin-ness,"
For the record, Blanche says Tony Abbott has a "cringe factor" and is an embarrassment for Australians, particularly overseas.
Do you love knowing the former PM and his second wife are sexually active or do you wish they'd keep it in the sack?
photo credit: Blanche D'Alpuget and Bob Hawke via photopin (license)