We've included glamorous gran, Ruth Greening, a petite model, to offer our shorter members some special summer inspiration. We've also featured some longer and more tailored dresses and shirts for those of you who prefer to cover up their legs, arms and tums.
And when you confessed to us that looking like a "trendy granny" was high on your wish list, we cheered from the sidelines.
If anyone knows a thing or two about that, it's our Ruth. To her two teenage grandsons, the petite 70-year-old model has always been "Nanny Babe" (in fact, Ruth even writes a blog under that name). When it comes to mature fashion, Ruth firmly believes that "nothing should be off limits".
"It's very easy to give in after 60," admits Ruth, who is 158cm and a size 6-8. "But it's about adapting a style, not giving up on a style," she says. "The idea that you have to look and dress a certain way just because you're a grandmother is changing."
"I haven't allowed myself to get stuck in a fashion rut," says Ruth. "I still experiment with colours and new season styles. I absolutely love that we can now wear sandshoes with dresses, for example. That's one of the best fashions ever and it was the younger ones who brought it in!"
Adds our gorgeous mature model Jan Wild, who is 173cm tall and a size 16:
"When I retired and left the corporate world, I made a promise to myself that I would always put my lipstick on before I left the house. Personal style is very important when you no longer have a desk or an office to go to," says Jan. "My motto is, 'stand up straight and suck it all in. Make the most of yourself.'
"I recently bought a black linen slip dress and I can't wait to post it on my social media and say, 'Here am I. A size 16, 68-year-old woman and I'm all for breaking all the rules. Because I love this dress and I feel great in it!'".
In the spirit of staying sassy well after 60, we share some highlights of the hottest new summer fashion looks from our brand new shoot.
And if you're snapping up any of these fantastic looks from Orientique and One Summer before December 15, you'll also score FREE EXPRESS SHIPPING for orders over $100.
How to do bold patterns when you're petite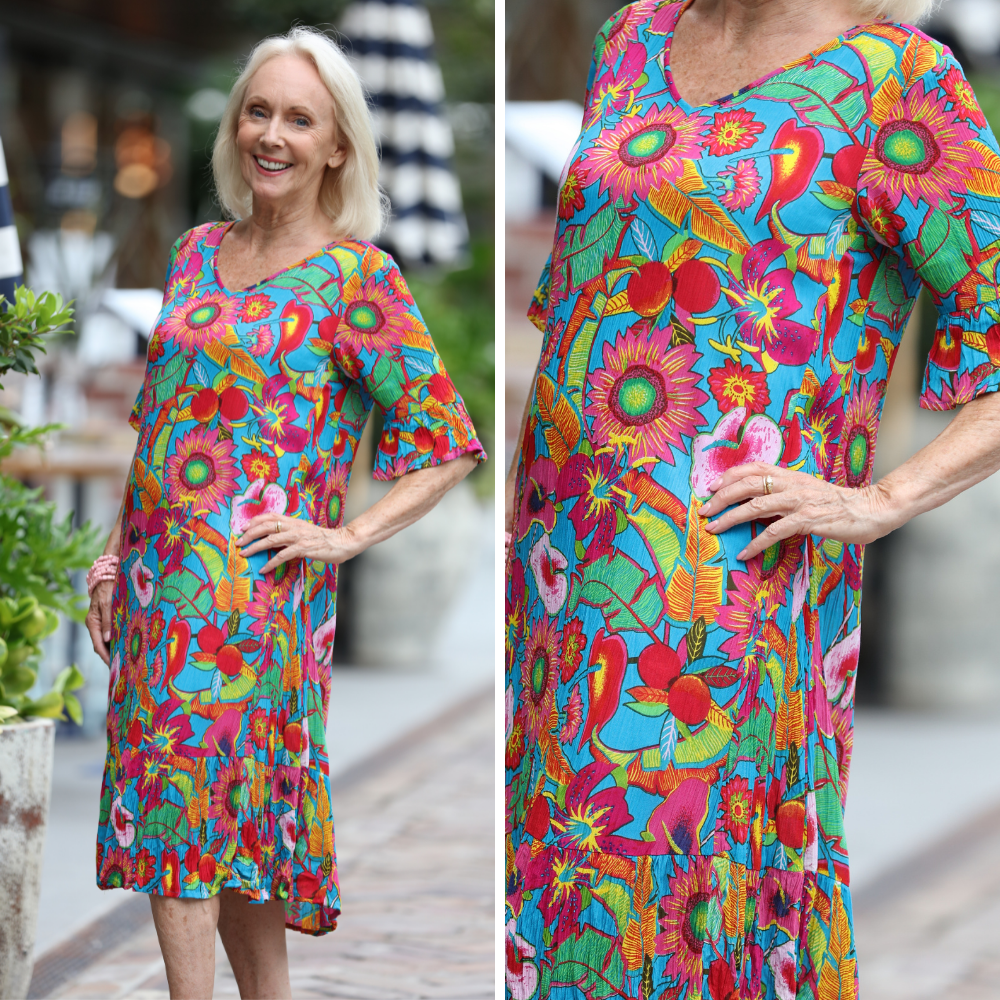 It's a problem that every small-framed person will relate to. "It's very difficult to find something that doesn't make me look like a big ball of material," says our petite model Ruth. "Because I have a smaller body, I only used to wear small prints," she shares. "But now I'm going all out for the new larger patterns as long as the dress is not too bulky. When you're small you can't have both." Ruth found her perfect dress mate in our One Summer Estelle Sleeved Midi Dress with its upbeat floral print design. "The length is ideal for me," says Ruth. "I used to wear mini-dresses and skirts but I don't walk around showing my knees anymore." With its blaze of bright colours and relaxed A-line silhouette, Estelle has everything you need in a fun summer dress and best of all, it doesn't need ironing!
You can still wear a flirty little red dress after 60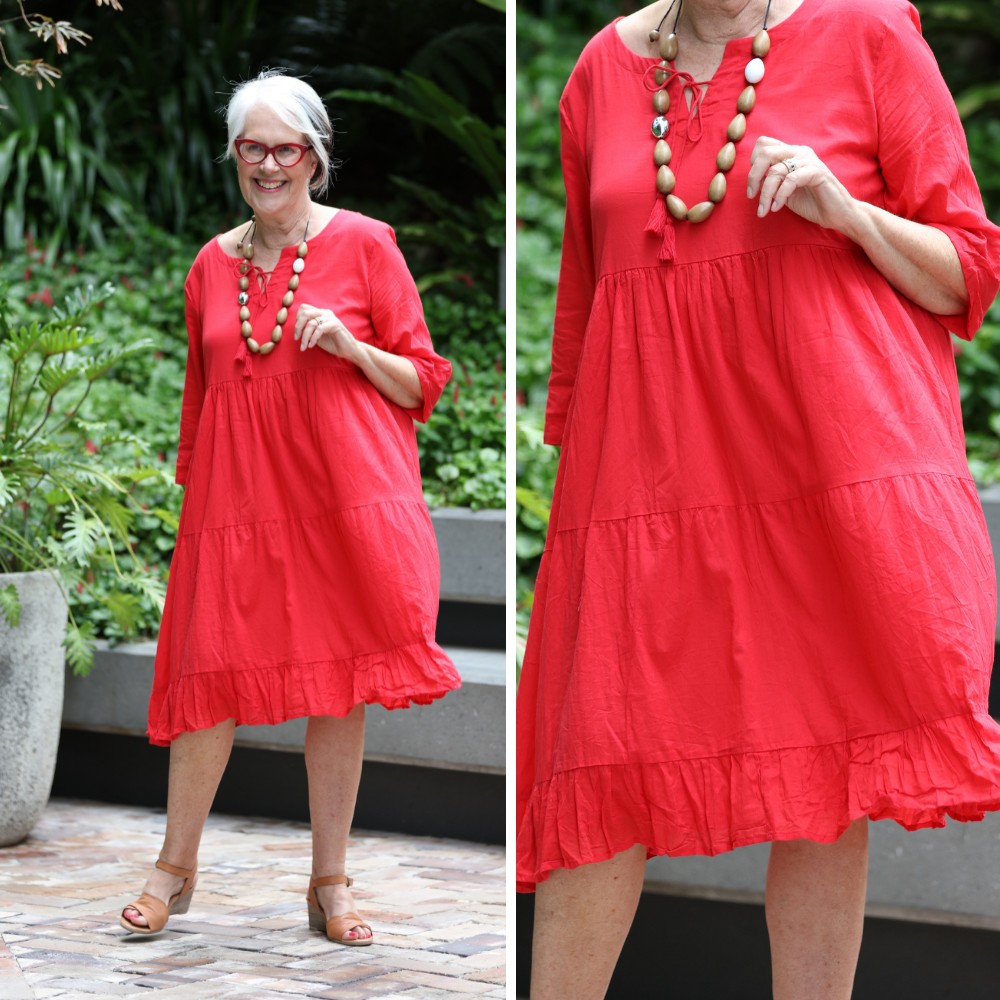 Hollywood might have put the idea in our heads that stepping out in a little red dress is only acceptable when you're young and in "perfect" shape, but our confident size 16 model Jan won't hear of it. "I'm very much about breaking all the rules when it comes to fashion," she says. Jan adored our Margarita ¾ Sleeve Cotton Midi Dress in Scarlet Red. "It fitted beautifully. I have no waist at all so I'm always looking for things that are quite nicely fitted across the bust but that sneak over my mid-region," she says. "I don't go for stiff a-lines because they don't work for my body shape either; I've got quite narrow shoulders. But the Margarita was just beautifully cut and it flowed over the bits that I don't want to draw attention to. It had a real sense of fun without feeling like the dress was wearing me." Take inspiration from Jan and pair this dreamy and lightweight summer frock with some Candy Elasticated bracelets in pink and a bold chunky necklace like our Atlantis Pod Necklace in wood to rev up the fun factor. Forego over the top heels and opt instead for comfy beauties like these Bueno Josie wedges that will give you the boost minus the blisters. You're all set to turn heads on Christmas Day.
'I'm just not a dress person'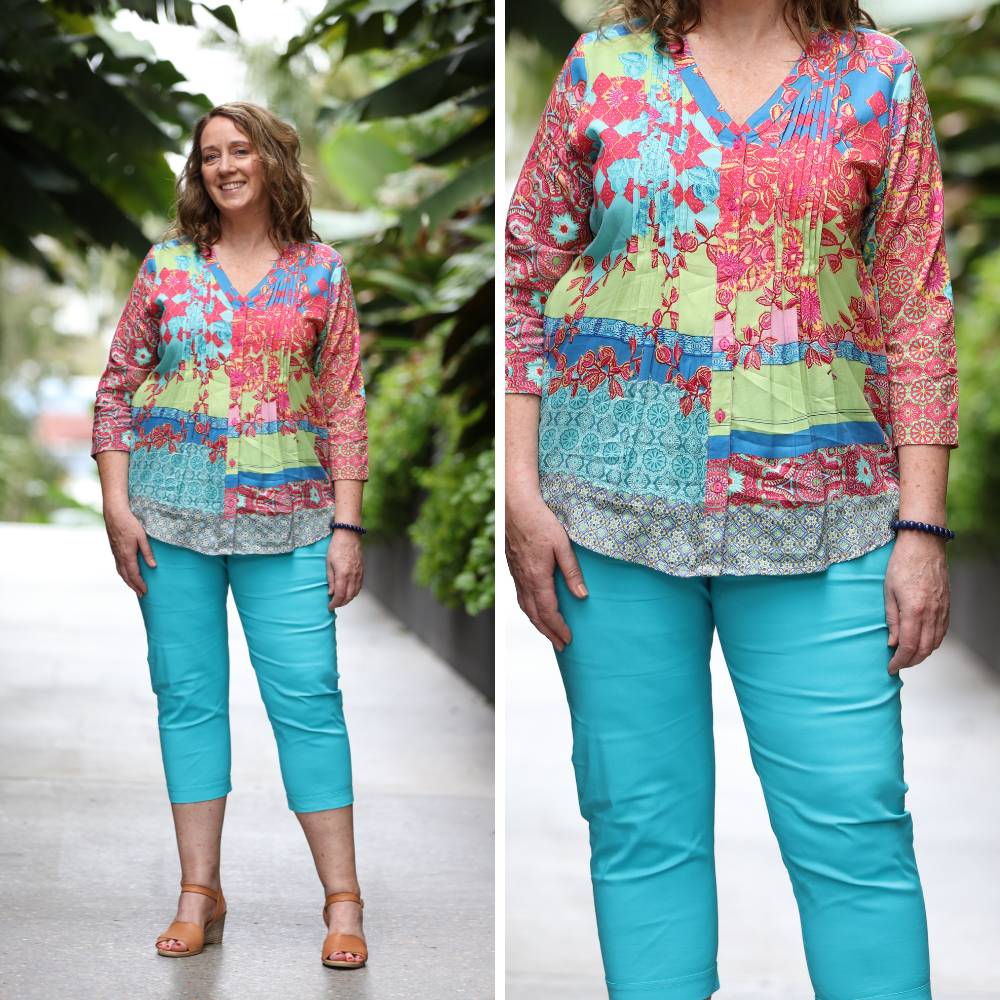 Not everyone wears dresses. Some of us just aren't "dress people". But that doesn't mean you can't still make a splash and look on-trend when you head out to meet friends or family with the season's brightest hues this summer. Karen Holloway, our lovely size 14 model from the Travel at 60 team, admits she often prefers to make a style statement in a pair of comfy "feel good" slacks like these slim-fit Adela capris in head-turning turquoise. To further stand out from the crowd, she'll team them with a bold coloured print on top, such as this eye-catching Orientique Barbaroux blouse with its ¾ sleeves; perfect for allowing you to step out with extra body confidence. Says Karen who is 172cm, the longer hip length is ideal "for those who like more coverage over the tush". With a rainbow of beautiful shades featured in this v-neck summery pintuck blouse, you can pair it with any number of different bottoms (we suggest trying white or French blue to further stoke the resort vibes).