New technology allows you to record symptoms of ovarian cancer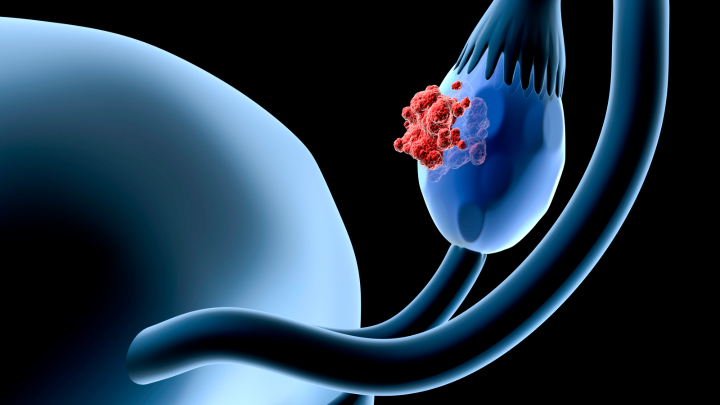 Ovarian cancer is another of those nasty problems facing many women as they get older.
If you've ever known someone or been diagnosed with it, you know how deadly it can be.
Which is why Ovarian Cancer Australia is encouraging women to use new technology to help them record any possible symptoms.
The organisation has created a downloadable symptom diary to help you track any symptoms you might be worried about.
So, exactly what are the symptoms you should be looking out for?
Ad. Article continues below.
Well, they include:
Pelvic or abdominal pain
Swelling or bloating around your abdomen
Incontinence or a frequent need to pee
Issues eating or feeling full after small meals
Back pain
Indigestion and nausea
Bleeding after menopause
Unexpected weight gain or weight loss
Fatigue
Changes in your bowel movements
CEO of Ovarian Cancer Australia Jane Hill told the ABC it was difficult to diagnose ovarian cancer because the symptoms were quite common. 
"If you have any of these symptoms, they are new for you and you have experienced them multiple times during a four-week period, go to your GP," she said.
"You can then take the completed diary to your doctor to assist with diagnosis.
Ad. Article continues below.
"It is important to remember that most women with these symptoms will not have ovarian cancer.
"Your doctor should first rule out more common causes of these symptoms, but if there is no clear reason for your symptoms, your doctor needs to consider the possibility of ovarian cancer."
Hill said you should seek a second opinion if you're still concerned.
"If you are not comfortable with your doctor's diagnosis or you are still concerned about unexplained persistent symptoms, you should seek a second opinion," she said.
Does this sound like a good idea? Have you or someone you've known ever experienced ovarian cancer?