How to exercise with arthritis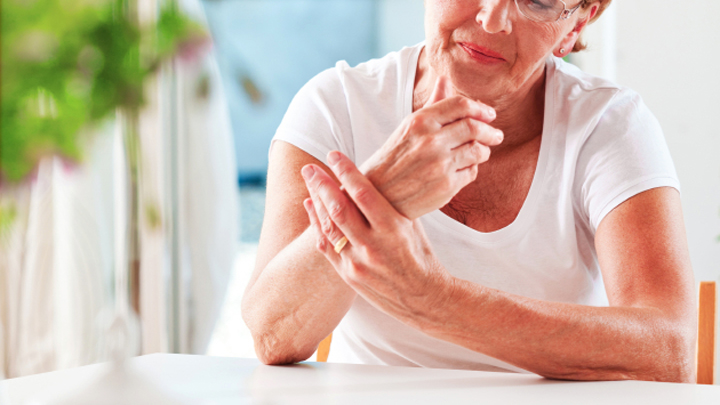 When your joints are uncomfortable and simple movement is a chore, exercise is probably the last thing on your mind. However, despite every painful sign to the contrary, your body wants and needs continued activity to stay well.
While it may feel like exercising your sore joints will make it worse, the exact opposite is true. Exercise is vital to keeping the muscles around your joints strong. Weaker muscles will mean more pressure and strain, and in turn, more pain.
But how can you keep your body active and healthy when it's trying so hard to hold you back? These helpful guidelines will help you stay on the right path.
Range-of-motion exercises
Mayo Clinic advises trying a series of gentle movements every 1-2 days to relieve stiffness. The goal here will be to move your joints through the movements that would be expected of them in day-to-day life.
Ad. Article continues below.
Gently raise your arms above your head; roll your shoulders back and forward; move your legs through a full walking motion. These can be done in your own space and your own time.
Hand stretches
This is another simple, important exercise you can do at your discretion. Clench your hand into a fist, then stretch your fingers out as far and wide and back as they can possibly extend. Make a fist again, and repeat.
You can also do this in the water for added comfort. One great technique to push yourself a little further is to squeeze a foam ball, letting the water seep in on stretching, then squeezing it out again.
Chair stand
Ad. Article continues below.
As the simplest everyday motions are difficult, it can be important to concentrate your exercise on these tasks. Health recommends simply sitting down and standing up repeatedly on a regular-height chair, using your arms if needed, in a very slow and deliberate way.
This is particularly useful for arthritis in the arms; the stronger the legs get, the less the stress that will be placed on your arms for tasks such as this.
Walking
According to the American College of Sports Medicine, moderate- to high-intensity walks will go a long way in building endurance. While 30 minute sessions are ideal, 10 minute intervals can sometimes be more manageable.
However, it's important to consult with your doctor or physiotherapist first before committing to any higher-intensity workouts.
Ad. Article continues below.
Pool exercises
This is a common recommendation, and for great reason: water will prevent too much pressure being put on your joints, yet give your muscles a great workout.
If aqua aerobics aren't possible, try simply walking through the water. Follow your instinct and do what feels best.
Many other recommended exercises for arthritis, such as weight lifting and stretching, can translate seamlessly into pool exercises.
Gardening
Ad. Article continues below.
Numerous studies have shown solid links between gardening and mental health. The relaxation and reward of maintaining a garden can help alleviate the very real chance of depression that arthritis can bring about. Add the wide range of moderate physical movement, and you'll have a way of routinely giving both your body and brain a great workout.
Everybody's body and medical condition is unique, so be sure to consult with your doctor of physiotherapist to determine just how much you should balance rest and intensity.
Have you experienced arthritis? How have you worked around it and eased the discomfort? Share your tips with the Starts at 60 community below.