Spring watercress salad with cashew mustard dressing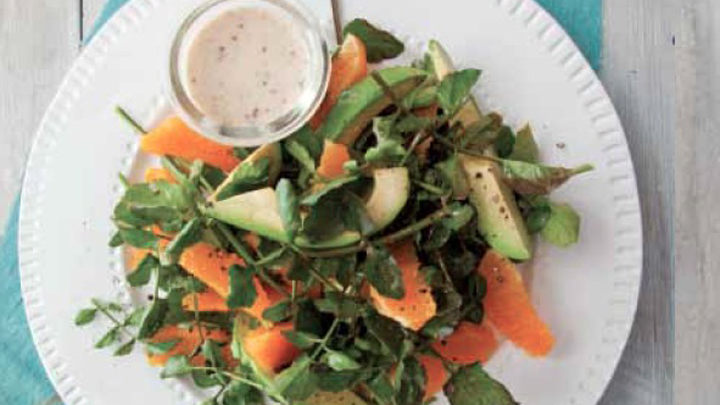 In summer, watercress goes to seed and becomes coarse and very, very hot, so spring and autumn, when it flushes verdantly green and tender, are the best times to use it.
Spring Watercress Salad – Prep time 10 mins | serves 8
Ingredients
10 handfuls watercress, stems removed
flesh of 3 oranges, cut into segments, pith removed
2 large, just-ripe avocados, cut into chunks
1/4 recipe cashew mustard dressing
Method
Ad. Article continues below.
Place watercress, orange segments and avocados in a large bowl.
Squeeze the juice from the orange shells over the salad and toss gently to combine.
Drizzle with cashew mustard dressing.
Divide between 8 serving plates and serve immediately.
Note: you can use any fresh salad greens for the salad.
Cashew Mustard Dressing – prep time 5 mins | makes 3/4 cup
Ingredients
Ad. Article continues below.
1/2 cup roasted, salted cashews
1 tbsp seed mustard
2 tbsp lemon juice
1 tsp honey
1/2 tsp salt
about 1/2 cup water, to thin
Method
Place all ingredients in a food processor and whizz to a smooth sauce.
Thin with a little extra water if desired to reach your preferred consistency.
Store in a jar in the fridge for up to 2 weeks.
This recipe and more can be found in Annabel Langbein's new book Through the Seasons, available via Booktopia for $44.50