Delectable cherry ripe slice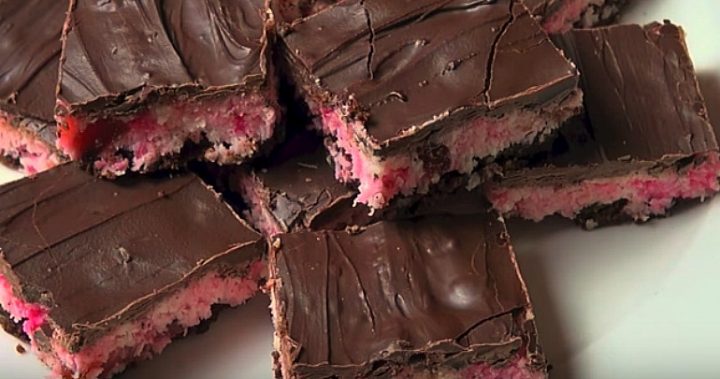 If you love cherry ripe chocolate bars, this is the slice for you! This recipe will transform your favourite chocolate bar into a delicious afternoon snack for the whole family to enjoy.
If you're looking for a modern twist on a classic slice this recipe is great for the festive season as a dessert or afternoon tea treat. The slice has sweet cherries, tropical coconut and sweetened condensed milk, all topped with a layer of melt in your mouth chocolate.
Ingredients
1 cup (150g) plain flour
1/4 cup (55g) caster sugar
1/4 cup (25g) cocoa powder
125g butter, melted
200g packet red glacé cherries, finely chopped
397g can sweetened condensed milk
3 cups (240g) desiccated coconut
Pink liquid food colouring
200g dark chocolate, chopped
20g copha
Method
Preheat over to 180°C.
Grease and line slice tray with baking paper. Let paper hang over edges.
Sift plain flour in bowl.
Add sugar and coco powder to the flour and stir.
Add melted butter to mixture and stir until combined.
Press mixture in tray and spread evenly with spoon.
Bake in oven for 1o mins.
Mix together the cherries, condensed milk and coconut in a small bowl.
Add food colouring and stir until the colour is consistent.
Spread the mixture evenly over the slice base.
Bake for 20-25 mins and then set aside to cool.
While the slice is cooling, make the chocolate top layer.
Place the copha and chocolate in heatproof-bowl that can balance on a saucepan.
Place the bowl over a saucepan of boiling water making sure it does not touch the water.
Mix the mixture for 5 mins until smooth and combined.
Pour the chocolate topping over the cooled slice evenly.
Leave the slice to cool for 30 minutes until set and serve.
Serve this slice with a side of whipped cream to balance out the rich flavour.