Samantha Armytage says she's happy to earn less than Kochie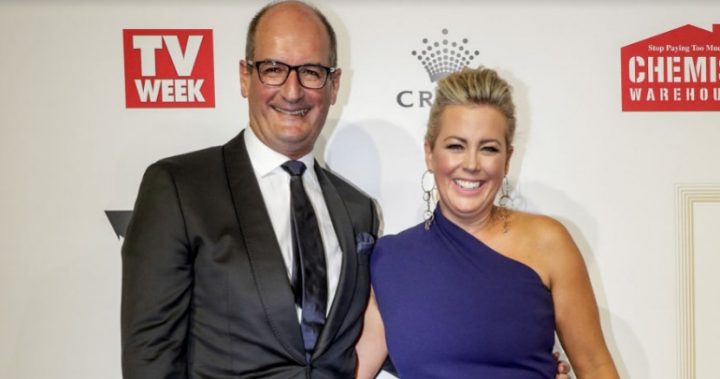 She's one of the most famous faces on Australian morning TV but Sunrise host Samantha Armytage doesn't think she necessarily should be paid as much as her Sunrise co-star David 'Kochie' Koch.
So, while rival Lisa Wilkinson dramatically left Channel Nine's Today show after the network reportedly refused to pay her as much as her co-host Karl Stefanovic, Armytage has dismissed calls for all presenters to be paid the same amount.
After saying it was "completely ridiculous" to expect all presents to be paid the same in an industry that doesn't have a salary structure, she also suggested that not all people were looking to earn as much as their co-stars.
"Any of us would be lying to say that we are all trying to earn the same," she said. "I think there's an awful lot of men that I'm paid better than, so that argument is completely ridiculous. That's not bragging, that's just a fact."
Read more: Lisa Wilkinson jumps ship in shock resignation
Ad. Article continues below.
She said that Kochie probably earned more than her, but that it didn't bother her,  the Daily Telegraph reported from Thursday's episode of Sunrise.
"I don't know exactly what Kochie earns and he doesn't know what I earn … I'm very happy where I am. Kochie has been doing the job 15 years … so if there were any differences, which I don't think there is too much, then it's probably deserved."
While Kochie has fronted the popular breakfast show for 15 years, 41-year-old Armytage only became one of the main hosts on Sunrise in 2013, following Melissa Doyle's departure from the show.
While she had previously appeared on a number of other Channel Seven shows including Weekend Sunrise, Dancing with The Stars and Seven's 4:30 News, her gig on Sunrise is arguably her biggest achievement to date.
Read more: Lisa Wilkinson's big payday has Carrie Bickmore furious : Reports
Ad. Article continues below.
She also appeared to target Wilkinson directly with her argument: "If somebody can run their price up because they are being offered something by another network then good luck to them. If you're lucky, you have that once or twice in your career."
Just a day after announcing her departure from Today, Wilkinson revealed that she was heading to rival network Channel 10 to appear on The Project.
What do you think of Sam's comments? Is she right to feel experience counts for as much or more than 'star power'? Does she deserve the same pay as Kochie?