Hugh Jackman 'spreads the Vegemite' word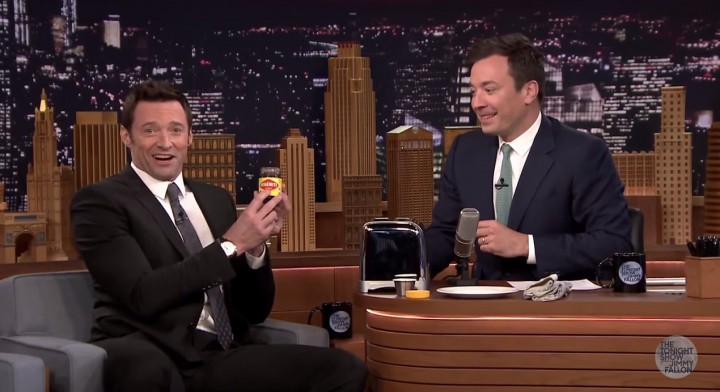 Hugh Jackman and Vegemite – what's not to love about that fabulous combination?
Our Hugh has gone on television in the United States to defend the iconic Aussie yeast spread in the face of recent criticism.
The Aussie actor appeared on The Tonight Show after host Jimmy Fallon tried Vegemite on air last week and said it tasted awful, likening it to beef bouillon.
Armed with his own toaster, white bread, butter and a jar of vegemite, Jackman went on The Tonight Show to make what he called a public announcement on behalf of Australia.
46-year-old Jackman told Fallon: "I've got a bit of a bone to pick with you man. You were talking a bit of smack last week about Vegemite".
Ad. Article continues below.
Jackman told the host he hadn't eaten the spread the right way, saying Vegemite needed to be eaten on toast with butter and layered on thin fluffy white bread.
Producing his toaster, the Aussie heartthrob cooked up some toast and spread it with just the right amount of vegemite to impress his host and then gave the band members some Vegemite toast to try too.
Although sniffing Vegemite in the jar had Fallon reeling back in horror Jackman's intervention worked with Fallon tasting the Vegemite again and declaring himself impressed.
The US talk show host was earlier dared to sample Vegemite by a couple of Australian kids who sent in a fan letter.
Do you feel like some Hugh Jackman with your vegemite on toast this morning? Ooohh, yes please! Here's the whole You Tube video of Hugh Jackman on The Tonight Show working his magic with humble Vegemite. Enjoy!